These Sweet New 'Sesame Street' Skateboards Are Ready For the Half Pipe
There are six muppet decks in all, including a longboard emblazoned with Big Bird.
by Dave Baldwin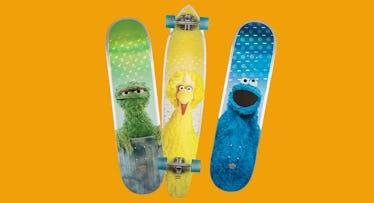 Screw Sesame Street On Skates, what about Sesame Street on Skate … boards? Imagine it now: Ernie and Burt lay down sick blunt to fakies while Elmo does a crazy backside 720 out of the pipe and the crowd goes bananas. Okay, it may not be coming to arena near you, but for the Australian skate company Globe ⏤ big proponents of The Sesame Street Yellow Feather Fund, which provides early education to kids in need ⏤ the muppets and skateboards are the perfect pair. And to prove it, the company just dropped a new line of decks adorned with everybody's favorite Sesame Street characters.
There are six muppet decks from which to choose including Oscar the Grouch, Cookie Monster, Elmo, Big Bird, Ernie and Burt, and Count Von Count. All the boards ⏤ which vary in size ⏤ are made of hard Maple wood and feature a "Resin-7 construction with a full concave, holographic prism foil with transparent and pearlescent ink details." It's assumed skateboard people understand what all that means. The imagery is all legit ⏤ taken from the show's official archives ⏤ so nobody's peddling knock-off likenesses of Cookie Monster in the wrong color blue. And the individual decks run $50, although two characters are sold as full ready-to-ride boards and are more expensive: The Byron Bay Big Bird ($190) is a 43-inch longboard with 150mm Slant reverse kingpin trucks, and the Elmo Blazer ($140), a 26-incher with 4.25-inch Tensor alloy trucks, 59mm wheels, and die-cut black broadcast grip.
None of them, however, are currently available ⏤ they sold out pretty fast. That said, you can sign up on the Globe site to be notified when they are restocked.
This article was originally published on