This Motorized Sidekick Is Basically the Alfred to Your Bruce Wayne
Functional? Yes. Cheap? You be the judge.
by Jon Gugala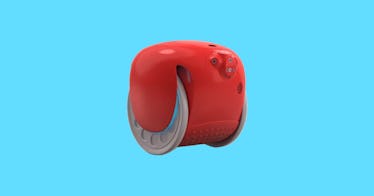 At one time or another, every father wishes he had an extra pair of hands. You could grow a second set, possibly. Or, you could invest in Gita, the personal robot carrier. Think of it as Alfred, in AI form. This motorized butler follows you along, at a top speed of six miles per hour, and basically, does your bidding. As long as that bidding happens indoors on flat surfaces.
Gita, pronounced JEE-tah, may be manufactured by scooter-maker Piaggio, but its components and operation are more Tron than trattoria. Utilizing multiple front and rear cameras with a 360-degree view, this robot learns who you are, and then follows you at a fixed distance while hauling all your stuff. Despite its new-age look, Gita's connection is entirely based on visual recognition, allowing you to use it indoors and out without need for cell service or a GPS signal.
While it may be a dense little fellow at 50 pounds, it carries 40 pounds up to six miles an hour for up to four hours on a single charge. Plug it in and it's ready to go in two more. While out of the box you may be limited to its internal compartment, additional containers can be purchased and mounted to its top to turn its soft plastic body into an electronic mule.
Of its myriad features, we were most impressed with its range of sounds, which were composed in collaboration with the Boston's legendary Berklee College of Music. Connect it to your smartphone via Bluetooth to act as your own mobile wireless speaker.
While Gita boasts of its versatile performance, there are a few weaknesses. Its top isn't waterproof or event resistant, limiting what you can reliably carry, which includes its use as phone charger via an internal port.
Also, its wheels can't tackle stairs or soft surfaces, meaning you may need to take the long way around. And it can't handle mud or sand, so forget using this thing on beach outings.
Still, if you have an extra $3K lying around, we could think of worse ways to spend it.
Every product on Fatherly is independently selected by our editors, writers, and experts. If you click a link on our site and buy something, we may earn an affiliate commission.