Tired of Gin and Tonics? Here are 6 Gin Summer Cocktails to Try
Because sometimes gin deserves better company than tonic and a squeeze of lime.
by Nicholas McClelland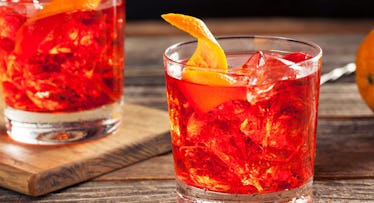 The gin and tonic is a perennial favorite for a reason. It's easy to make, easy to drink, and genuinely refreshing, especially on a sweaty summer day. Like most of the world, we love the the classic highball cocktail. Hell, just hearing the word gin, makes us immediately think 'tonic'. But that reflexive snap of the synapses is something we are trying to correct because a good gin is a wonderfully versatile spirit — great for sipping or crafting a variety of excellent mixed drinks. This is especially true in summer, when the floral notes pair well with the season. So, if you're tired of the standard G+T, here are six gin cocktails — and the best types of gin to use in them.
The Negroni
The Negroni celebrated its 100th birthday this year and we are raising our glass to 100 more years for this venerable cocktail. It's a serious drink, refreshing, yet bitter and perfect as an aperitif. We like ours with Beefeater thanks to its balanced citrus and juniper notes.
Ingredients
1oz Campari1oz Gin1oz Sweet Vermouth
Directions
Add all ingredients to a shaker filled with ice and shake until chilled. Strain into a rocks glass with one large cube of ice and garnish with an orange peel.
French 75
The French 75 is a wonderfully refreshing, easy to make cocktail. The pairing of gin and Champagne adds a sparkle to any brunch or a pop to an evening soirée. Plymouth Gin is a staple on our bar and it works well in the 75 thanks to complimentary citrus notes and a spice that plays off the the drink's sweetness.
Ingredients
2oz Gin3/4oz Lemon Juice3/4oz Simple Syrup2oz Champagne
Directions
Add gin, lemon juice and simple syrup to an ice filled shaker. Shake until ice cold and pour into a champagne glass. Top with champagne and garnish with a lemon peel.
Gin Rickey
Nearly as easy to make as a gin and tonic, the Rickey is a gin highball with a more fun name. Clean and crisp, Tanqueray's herbal and spicy bouquet is made even more aromatic by the bubbles from the soda.
Ingredients
2oz London Dry Gin3/4oz Lime juiceClub soda
Directions
Fill a highball with ice, add gin, lime juice and top with soda. Garnish with a lime wheel. For those who like a touch of sweetness, add a dash of simple syrup.
The Last Word
This once and future crowd-pleaser was prohibition era drink resurrected in the early 2000s. Now on menus at cocktail bars around the country, it's an easy drink to make at home. While it's ratio is 1:1:1:1, the gin in the recipe is the star of the show and that's why we like to use The Botanist, a robust floral Scottish variety that boasts a nice pop of juniper.
Ingredients
1oz Gin1oz Green Chartreuse1oz Maraschino Liqueur1oz Fresh Lime Juice
Directions
Shake all ingredients with ice until chilled. Strain into a martini glass and garnish with a lime twist and/or a maraschino cherry.
Basil Gin Smash
A delicious summer cocktail, the basil gin smash is so easy to drink it can be a little dangerous. It's also simple to make. Hendrick's Gin is our go-to when whipping one (or a pitcher) up, as the gin's cucumber notes play beautifully with the basil.
Ingredients
2oz Gin1oz Fresh Lemon Juice1/2 – 3/4 oz Simple SyrupFresh Basil
Directions
Muddle six to 10 basil leaves with lemon juice and simple syrup in a shaker. Add ice and gin then shake until chilled. Strain into a larger rocks glass filled with ice and garnish with a sprig of basil
The Vesper Martini
We can thank James Bond or at least Ian Fleming for this excellent riff on the traditional martini. It's definitely booze-forward, so we don't recommend having more than one unless you're 007 and your liver isn't real. The original recipe calls for Gordon's gin and who are we to argue?
Ingredients
3oz Gin1oz Vodka1/2oz Lillet Blanc
Directions
Shake all ingredients over ice. Strain into a chilled martini glass and garish with a lemon twist.