This Gigantic Inflatable Pool Table Brings New a Meaning to Pool Parties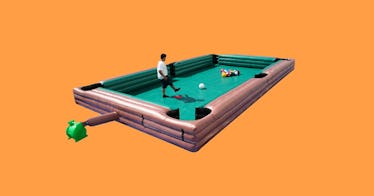 If you're rich – we're talking Bond villain rich — chances are pretty good that you already have a giant, Chamber of Secrets-style chess set in the expansive grounds behind your mansion. But why stop there? Why not add an enormous inflatable billiards "table" that's basically a combination of pool and soccer?
When inflated, the EZ Inflatables Human Billiard Bounce House is 17 feet wide and 30 feet long, with rails that top out at three feet off of the ground. An included air blower inflates the sides of the playing area, while anchor stakes keep it secure There's also a patch kit to take care of any holes and a tarp that serves as the felt even though it's actually PVC-coated vinyl, like the rest of the setup.
Of course, the big sell is the enormous pool action. Sixteen soccer-ball sized balls — one cue and 15 numbered — are also included. There's no cue stick because your leg is the stick. To play, simply kick the cue ball into the others just as you would on an actual table. The pockets are indentations carved into the sides and corners of the inflated structure.
Yes, this thing is expensive and ridiculous. But how much fun would it be to get the kids in here and play a gigantic game of pool?
So if you've got some space to fill and some cash to burn, consider this table. If you get good enough, you can invite your friends over and hustle them, The Color of Money style. Not that you need the cash.
This article was originally published on