Don't know what to get dad this year? You're not alone. We talked to a handful of dads to help inspire your shopping.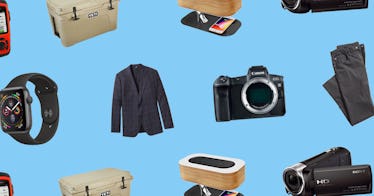 The following story was produced in partnership with Bonobos.
Dads are fairly easy to shop for — if they know what they want. When that's the case, they'll just come right out and say it. The trouble is when they aren't sure what they want. Then they'll likely say, "For me? Nothing. I don't need anything." It's annoying. To help take some of the guesswork out of shopping for such men, we talked to a handful of dads with varying styles and tastes (all good). Here's what these dads want for the holidays.
Steve Tate is the vice president of HayesTough, an organization that fights childhood cancer. He's the father of five and author of the touching The 20-Month Legend, a memoir of battling cancer with his young son. What does he want this year? A watch and a sweater would fit his style.
Bonobos Wool Cashmere Henley Sweater
"You wanna know when I officially became a Dad? When I wore cashmere," Tate says. And this Henley is perfect for the modern dad. "If you know me, you'll realize how much I love a good Henley shirt," he continues. "And this takes that look but makes it very comfortable." It's almost completely wool, so it's more than warm enough for winter weather. "It goes with anything really, except for basketball shorts. Don't ever wear cashmere sweaters and basketball shorts," says Tate. "But really, this sweater is really comfortable, and the Henley look makes it a little less like I'm going out in the neighborhood caroling Christmas hymns."
Apple Watch Series 4
The gold-standard of smartwatches is a must-have for the man with a tendency to exercise. "I've always loved watches," says Tate, "but I love this particular Apple Watch. I love it for working out, as it tracks my calories and heart rate. It's also waterproof, so you don't have to worry about taking it off every time you get in a pool." And that just scratches the surfaces for how awesome it is. "You can also stream music without your phone," says Tate, "because who wants to carry that with you when you're jogging?" Who, indeed?
Ralph DeFelice is a marketing director in California, and the father of two children — regularly taking them on adventures to explore their great state. What does he want? A satellite phone and serious cooler are on his list.
Garmin inReach Explorer+ 2-Way Satellite Communicator
If you're inclined to go on adventures with your kids, this communicator is a must-have safety device. "I often have the kids by myself on adventures off the grid in isolated places with no mobile phone service," DeFelice says. "We take calculated risks, but I'm just one slip, fall, and broken bone away from being in a dangerous situation with my young children." Never great — so he relies on a sat phone. "I can communicate with anyone from anywhere on the planet, and we are one click away from sending an SOS to emergency services. And they are easy for the kids to use it in case I'm unable."
Yeti Tundra 45 Cooler
There's no better way to set a family trip up for success than with the right cooler. "One of the things I love about car camping is cooking over the campfire," he says. "But great food prep in a campsite requires keeping your fresh perishables cold even in the heat of the summer sun." This indestructible Yeti cooler comes with a lifetime guarantee and packs an impressive 28 cans (for a guys' trip) or roughly 33 liters, and comes with three inches of insulation. Nothing's warming up.
Michael Worthington is an entrepreneur in marketing and advertising, who lives in Dallas, Texas. He's the single father of Asia. Both of them can be seen doing all sorts of cute shenanigans on his Instagram account. What does he want? A wool suit and a cool camera, of course.
Bonobos Jetsetter Stretch Wool Suit
From formalwear to whatever occasion, Worthington's first pick is all about the trim. "Dads would like the suit because it's a clean sharp look and means business," he says. It's versatile, able to move from holiday party to the workplace and beyond, and will draw everyone's attention with its sharp-looking trim and notch lapels.
Sony HDR-CX405
Probably no surprise here: dads love cameras. And while your phone is undoubtedly decent at snapping a pic or two, for real family outings, you'll need one of these. Worthington agrees. "Dads would love a cool camera to capture family memories and moments," he says. "Especially around the holidays — or really, any day. Memories last forever." This cam from Sony can record full HD video and convert it into an MP4 in no time. It even bundles with a tripod, microSD card, and a carrying case.
Brad Lawson is a father of two and works at a hedge fund. He also owns his own gym in Connecticut, stays in as good shape as he can — and encourages his kids to do the same. In fact, his daughter just ran her first 5K. What does he want this year? A smart ring and something to help him read at night.
Motiv Ring
Lawson's next pick should be no surprise: a fitness tracker in a ring. It's minimal, waterproof, and made of lightweight titanium (though you do need to charge it every three days). It tracks your fitness, sleep, and heart rate — all through its app. "It's so stylish," says Lawson, "perfect for fathers who are married, and a great addition for those who don't like to sleep with their Apple Watch at night." Oh, and don't worry about the size — it comes in seven.
Ampulla Bedside Lamp
You may have a fancy bedside lamp, but after seeing the Ampulla, you'll realize it doesn't do enough. "I'm a single father," Lawson says, "so I was looking for something nicer to have by the bedside than just a regular lamp. The combo of wireless chargers and speaker really did it for me." The Ampulla will charge any Qi-compatible phone and connects through Bluetooth for music, so smooth jazz before bed is no longer a headache. It's got a modern finish, too, and is easy on the eyes. "From a father's perspective," Lawson says, "it feels masculine to me. It adds a sense of edginess to the room."
Jason Sinclair works in marketing and lives on a boat with his family in New Jersey, exploring the world with his daughter, wife, and two dogs. What does he want? A very nice bottle of rum and an even nicer pair of pants.
Flor de Caña 18 Year
Hard to go wrong with a solid bottle of booze during the holidays, and Sinclair's pick is your go-to excellent choice. "It's just so smooth," he says. "I consider it to be far above other rums out there. I'd rather drink this — especially during the holidays." It has a full-bodied amber color with notes of caramel, nuts, and spices. In other words, it's a perfect drink for right by the fire.
Bonobos Stretch Washed Chinos
Sinclair appreciates some versatility, living on a boat. And go-to chinos deliver. "They're just so comfortable," he says, bucking the skinny trend but coming in a variety of styles that are perfect for whatever your body type. They'll look sharp in the workplace, of course, but Sinclair loves wearing them just about wherever. "If I could wear these every day, I would," he says.
This article was originally published on