The Best Gifts Under $50: 50 Presents for Every Type of Man on Your List
Affordable gifts even the guy who always says he's "fine with nothing" will enjoy.
by Fatherly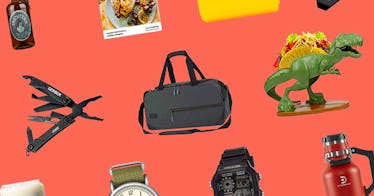 Once upon a time, "buying" dad a gift for his birthday meant mom picking out something nice and then signing your name on the tag or, better yet, just having her do that too. You were a kid, and it was easy for everyone, except mom, who had to pick up extra gifts "from" the kids.
Well, now you're the dad. And that same scenario, whether you realize it or not, is currently playing itself out behind the scenes in your house. Every time you tell your spouse or kids, "I'm fine with nothing," when they ask what you want for your birthday, Father's Day, or Christmas, you aren't helping. So stop. Take a look at this list of holiday gifts, each of which costs $50 or less, and pick a couple of favorites. It's that simple. We guarantee you'll find something you'll enjoy.
The Best Gifts for Less Than $50
Every product on Fatherly is independently selected by our editors, writers, and experts. If you click a link on our site and buy something, we may earn an affiliate commission.