This 12-Foot Imperial 'Star Wars' AT-ACT Is Ready To Dominate Your Backyard
There are toys and then there are toys.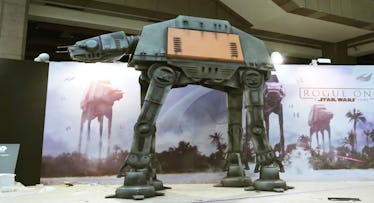 It's tough to know where the line is drawn between being the coolest dad in the neighborhood and the most obnoxious, but it's safe to say that installing an enormous Star Wars Imperial Walker AT-ACT in your backyard straddles it. Especially when it costs 35 grand, like this one from a Japanese toymaker.
When a platform tree swing or battery-powered Tesla aren't good enough, Beast Kingdom's unveiled a 1/7th-scale AT-ACT (All Terrain Armored Cargo Transport) that stands almost 10-feet tall (it measures 12-feet by 4.2-feet by 9.8-feet) and appears to have just marched in off the set of Rogue One. Part of their Master Craft series which includes a $3,800 Rebel U-Wing Fighter at 1/23 scale, it's painted to appear "rusted and battle-worn" and even features the orange cargo door, common on the AT-ACTs in the latest movie. And while it's unclear what the damn thing's made of, one thing is certain: it weighs a frigging ton ⏤ 7,300 pounds to be exact. And you have to pay for shipping.
That's not even the craziest part. Nor is the fact that somebody built (or is even selling) a 12-foot-tall AT-ACT. It's that at $35,000 more than one person has bought one ⏤ they're currently sold out! They come made-to-order and require 90-120 days of lead time, and to get yours, you'll need to email customer support to find out when sales will resume. You'll also have to coordinate full payment in advance, something that most certainly will put you on the obnoxious side of that line.
This article was originally published on