Go Off the Grid for 24 Days with Garmin's New Solar-Powered Smartwatch
It's loaded with features and even adjusts your workouts based on altitude.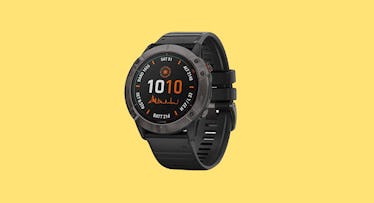 Any outdoorsman knows both the pleasure and the pain of a smartwatch: the need for power. To date, you've had to tailor your packing or plan your trip based on access to an outlet. But thanks to the new Garmin hybrid smartwatch, you can bypass those annoying chargers. Meet the fēnix 6X – Pro Solar Edition Garmin smartwatch and fitness tracker. Like its name suggests, it draws power from the sun even as you exercise, ensuring your watching won't run out of juice before you do.
And this means you can go off the grid whenever you want, provided you have access to, you know, the sky. The Garmin has an internal, rechargeable lithium battery that provides up to 21 days of battery life in smartwatch mode with an additional three days when you're using its solar-charging feature, and 15 hours in GPS mode with an additional hour with solar charging.
To break it down even further in simpler terms: The device's crystal-like glass also acts as a solar panel, extending the life of your device when exposed to the sun. When acting as a smartwatch, it boosts battery life from 21 days to 24, and when used as a GPS device, from 15 hours to 16. Unsure of how much charge you have left? Its built-in Power Manager allows you to check in and monitor your battery life while also seeing how app usage affects it all.
Garmin's fēnix series of watches has long dominated the outdoor space. The first to combine GPS with altimeter, barometer, and compass as well as fitness tracking metrics and route creation, millions of men around the world have trusted it when recreating in unknown and familiar areas alike. Its 6 Series continues this legacy, while expanding its custom sports tracking modes further than ever before. Whether you're a hiker, golfer, skier, or one of numerous other sports (or a little of each), Garmin's got you covered with thousands of pre-loaded courses and maps.
Like other wrist-mounted wearables, the fēnix 6X – Pro Solar Edition tracks heart rate through an optical sensor, using that data to offer training advice. Traveling to altitude? It will even adjust your workouts.
Another bonus: Apps like Spotify can store up to 2,000 songs for the journey, and at its end, buy yourself a Powerbar with its Garmin Pay service.
A lot has changed since the original wrist-mounted GPS systems Garmin launched, but the fēnix 6X – Pro Solar Edition shows that the company has moved well beyond the fitness space. For those who work hard and play harder, it's ready for the ride.
Every product on Fatherly is independently selected by our editors, writers, and experts. If you click a link on our site and buy something, we may earn an affiliate commission.
This article was originally published on