4 Garage Hacks that Will Save You Space You Forgot You Had
Get your garage in order.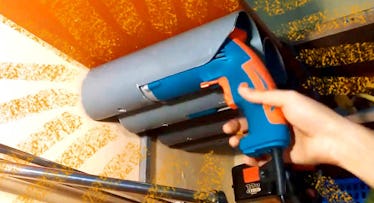 Your garage is a mess. Despite best intentions to turn a blank concrete space into a dream workshop, half-finished projects piled up, tools have scattered, broken appliances accrued, cobwebs grew, and now the car won't fit and the kids are afraid to enter.
It goes without saying that any garage that is also meant to be a workshop works best when tidy, but putting those mountains of tools in order is daunting. We can't clean up your garage for you, but these DIY garage hacks can help you keep everything right where you want it.
Garage Hack #1:The PVC Drill Holder
Power drills are bulky, and it can be awkward trying to find them a home other than cluttered on top of the workbench. That's why it can help to build them a rack of their own with just a couple pieces of PVC pipe. All you need to do is cut a groove into the pipe that's big enough for the drill handle to slide into. Sand it down, drill some holes into the opposite side, and screw the pipe onto a shelf and you've got yourself a hanging rack for as many drills as you need.
Garage Hack #2: The PVC Tool Hanger
You may be noticing a trend here, but that's because some spare PVC can be a game-changer when it comes to creating extra storage space out of thin air.
To make a more universal tool hanger, cut a PVC pipe to whatever length the tool needs, and cut another groove in one side. This time the groove should go the entire length of the pipe so you can hang things with long handles like shovels or posthole diggers. Cut a bevel into the pipe to hold the tool in place, and once more drill holes in the side so you can screw the PVC hanger to your wall.
Garage Hack #3: The Ladder Hanger
If you want to keep your ladders from precariously leaning near your car, find a nine-inch or so piece of scrap wood and cut a bevel down the length. Then attach that piece of wood to another board that's a little bit wide than the ladder itself.
Drill that to your wall, and your ladders have a brand new hanging place that won't send them toppling every time you accidentally bump into them.
Garage Hack #4: The Overhead Pipe Container
This one's a bit more involved, but it's a great way to keep any spare pipes, beams, or other miscellanea from piling up on the ground. Start with some pipes that can fit whatever it is that needs storing. Trace the edge of those pipes onto one side of some wooden planks, then saw along the line and sand the wood down so you have grooves into which those pipes can fit.
Then screw the pipes into place and anchor that new wooden frame into the ceiling, and you've got yourself a brand new hanging rack for pipes, tools, spare metal, and whatever else you're tired of tripping over on the way to the car.
This article was originally published on