These Next-Gen Fighting Robots Can Throw Punches And Swing Swords
And their sensored battle armor knows when they've been hit.
by Dave Baldwin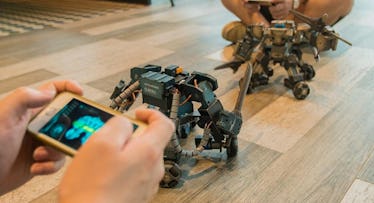 Twenty years ago, kids dared only dream that their Transformers would take life and start beating the hell out of each other. Today, there's no need to dream. BattleBots, MegaBots, MekaMon … everybody's building sword-swinging, missile-shooting droids that can actually do battle, either autonomously or by remote control. The newest battle robots to enter the ring: Gankers. And these guys have some serious fight training.
Funded on Indiegogo last summer, these high-speed toy robots out of China are finally ready to get their fight on. Ganker fighting robots are made out of aluminum alloy, weigh 6.6 pounds each, and use an all-direction chassis to zip around the room at "freakish" speeds. Thanks to a servo motor and nine joints, they can "throw punches, kicks, even swing a sword." Their robot armor is also integrated with sensors to detect contact, so they know when they've been hit.
There are currently two customizable robots available ⏤ Blue Warrior and Black Samurai ⏤ and, admittedly, they look somewhat like scaled-down versions of the massive steel-crushing MegaBots from the United States and Japan will do battle next month. They sync via Wi-Fi to a smartphone app, which is how they're controlled. And while battle is conducted on your living-room floor, score is kept in the app. Essentially, your Ganker fighting robot loses "blood" points for each physical hit registered by the armor sensor. When health reaches zero, you're cooked.
While a sword and spear are the only two weapons currently in the Ganker righting robot armory, more are on the way, including an infrared gun, lance shield, and battle ax. Not only that, but the robots will eventually be compatible with VR headsets and rock mounted POV cameras. Because who wouldn't want to get up close and personal with this action?