The Best Gaming Laptops for Gamer Dads and Their Kids
Because you don't have time for bad graphics or laggy performance.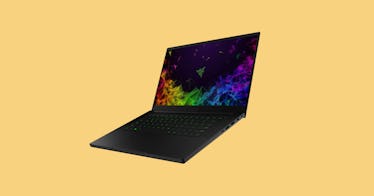 Gaming laptops for kids may seem like the obvious purchase for gamers, but there so many factors to keep in mind when shopping for gaming laptops. Yes, console versus computer is one of video gaming's oldest conflicts. At this point, anyone who's serious about gaming has a preference. Console aficionados have a relatively simple choice between the latest and greatest from Microsoft, Sony, and Nintendo. Game selection, backward compatibility, and bells and whistles like VR and portability are the main concerns for them. Choosing a great gaming computer is daunting even after you've decided you want the portability of a laptop.
Your ideal setup depends on your and/or your kid's gaming habits, so we chose a wide variety of laptops for a wide variety of gamers. They all carry dedicated graphics cards and high-performance displays designed for gaming. Where they vary is in their specific capabilities, how portable they are, and, of course, how much they cost. So while you can't expect the same performance from a $3000 Gigabyte Aero 2070 and a $775 Dell Inspiron 15, you can expect both of them to perform well for the money. Here they are, along with the rest of our favorite gaming laptops. See you in the Howling Abyss.
Best Gaming Laptops
Pros: Acer's Predator gives you full control of your gaming experience. How, you ask? Because it's loaded with a feature called PredatorSense, letting you take command of lighting, fan speed, overclocking, game profiles and other must-have gaming features. It's VR-enabled, and we particularly love the keyboard, which can be individually programmed.
Cons: Moneywise, this is definitely an investment.
Pros: With a price of less than $800, this is a great first gaming PC for you or your kid. And if you do see fit to upgrade your hard drive and/or RAM, it's super easy to unscrew a panel and snap in new components, which isn't always the case for gaming laptops that cram a lot of components into a very tight space.
Cons: At 6.61 pounds, this thing is definitely on the heavier side despite its more limited specs. If you need a super portable or super powerful machine, move on. If a basic gaming laptop is all you want, the Inspiron 15 is a solid choice.
Pros: The screen is an edge-to-edge, matte (read: no glare) 240 Hz beauty powered by a more than capable NVIDIA GeForce 2080 RTX Max-Q. It also comes with a 512 GB hard drive and external GPU enclosures for future upgrades. Its cooling system is a vacuum-sealed, liquid-filled copper vapor chamber.
Cons: Ths price is not low, and some users have complained that the battery life leaves something to be desired.
Pros: You can choose between several different configurations in terms of storage (size of the SSD and mechanical drive you choose and what kind of graphics card you want. We think that a 128 GB SSD, 1 TB hard drive, and a Nvidia GeForce GTX 1060 with 6 GB is enough for most gamers. There's also no bloatware a.k.a. no useless preinstalled software to slow down your system.
Cons: The 5,400 RPM speed of the hard drive is slower than we'd prefer and could cause some performance issues for more resource-intense games. The battery life of up to six hours is nothing to write home about.
Pros: It has a ton of memory — 16 GB DDR4 to be precise — that helps lower boot-up and in-game loading times. A 144 Hz refresh rate makes two-dimensional graphics look nice and smooth. There's also Predator Sense, a proprietary piece of software that lets users tweak every setting on their system. Its seven hours of battery life is not too shabby for a serious gaming laptop.
Cons: Despite the fans, the Predator Helios 300 can get warm over long sessions. The included hard drive is solid-state — which is great — but only 256 GB, which probably won't be enough if you want to store local copies of a ton of photos, videos, and other large files.
Pros: The keyboard is fantastic. Each key can last up to 20 million presses, and the backlight is highly customizable. The thing that stands out about the keyboard, however, is its location. It's placed at the part of the laptop closest to the user, and there's a very clever touchpad/touch-numeric keypad on the right. You can use it for gesture-based actions that differ by the number of fingers you use or as a number pad if, for some reason, you find yourself needing to do some data entry in between WoW sessions.
Cons: A battery life of two hours is pretty dismal; this thing is really meant to be used while plugged in. The hard drive is bigger (512 GB) but it's a hybrid drive, so it has some of the disadvantages (less reliable, slower) of mechanical drives. Putting a mechanical drive in a laptop is riskier than putting one in a desktop, given the fact that laptops are more likely to be jostled, disturbing the moving parts inside and causing reliability issues.
Pros: Per key RGB capability lets you set the color of each key on the keyboard individually. Specialized software automatically chooses the fastest internet connection (wired or wireless) available and sends high priority traffic that way for better performance in online gaming. It also weighs only 4.14 pounds, on the lighter end of gaming laptops and an important factor if you're going to schlepping your rig around.
Cons: Some sacrifices are made in the name of slimness. Battery life, listed at 8 hours, takes a sizeable hit when you're playing demanding games or high definition video.
Pros: The larger footprint that comes with a screen this size means more room for interior components. This thing has two hard drives, so you get the benefits of a 256 GB SSD and a one-terabyte mechanical hard drive. It comes with both USB 3.1 (the traditional kind) and USB-C (the new kind) ports and a keyboard that, you guessed it, has fully customizable RGB lights.
Cons: The mechanical hard drive, at 7200 RPM, is on the slower side, and the nearly six-pound laptop might be rough on your back if you find yourself carrying it around often, which you might not given that its larger footprint (11.3 by 16.5 inches) makes it by definition a less portable machine. If you plan on taking this thing all over, make sure you have a serious bag that can fit it with straps that will take some of the pressure off of your shoulders and back.
Pros: Even with all of these premium features, the Gigabyte Aero still weighs in at just 4.49 pounds. It also comes with Microsoft Azure AI, a machine learning platform that it uses artificial intelligence to help your laptop run better and more efficiently. The screen is a 4K UHD display with Pantone-certified color calibration that can display the entire Adobe RGB color gamut (translation: it looks great). Even the speakers, which feature virtual 7.1 surround sound, are impressive.
Cons: It's three grand, so avoid this laptop if you're not sure how to take advantage of everything it can do. And it's a small annoyance, but it comes loaded with bloatware: not difficult to remove, but kind of disappointing to find on a high-end product. It's like buying a Ferrari with the dealer's name printed on the rear bumper: easy to get rid of but kind of tacky.
Every product on Fatherly is independently selected by our editors, writers, and experts. If you click a link on our site and buy something, we may earn an affiliate commission.