11 Guinness World Records You Can Break With Your Kid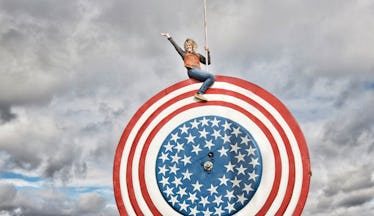 The Olympics were great for inspiring world record greatness — but your kid may not be quite ready for a Phelps-level training regimen (they're still sippy-cupping). Good news: There are a bunch of family-friendly Guinness World Records that are more achievable than beating Usain Bolt in a 3-legged race. Here's a quick list of feats you and your kid can attempt together — or at least look at it and go "Whoooaaa, cool. Your mom would kill us." Not that you need to prove anything. You've already got the official coffee mug of the "World's Greatest Dad."
Largest Pizza
Your kid's wildest dreams are coming true: you're having pizza for dinner tonight … and for the next 3 years. The pie to beat was baked in Rome, Italy (and weirdly gluten-free) and measured 13,580.28 square feet. To put that in perspective, the average home in the U.S. is now 2,600 square feet. That's like eating a neighborhood worth of cheese, sauce, and dough — plus a 3 car garage worth of toppings.
Most Pumpkins Carved in One Hour
This Halloween, you'll need to carve 110 pumpkins in roughly 60 minutes. Two years ago the record was set on The Meredith Vieira Show at 109 pumpkins. If you want to try this at home, you're just going to need to be prepared to eat about a billion pumpkin seeds and stencil until your wrist falls off.
Fastest Toilet
Edd China of Milan, Italy (who is apparently a person with that name) literally got his ass into gear with the world's fastest potty. Okay, technically this is a motorcycle and sidecar with a bathroom facade, but it's not a half bad idea for anyone that's skidded into a highway rest stop for an emergency potty situation.
Fastest Half-Marathon While Pushing a Stroller
You dropped all that cash on that fancy jogger stroller, so you'd better get your money's worth. You and your kid will technically be trying to break this record "together," although they literally just have to sit there while you do all the work. The time to beat: 1 hour, 11 minutes and 27 seconds, held by Canadian dad Calum Neff and his 11-month-old daughter Holland. That's faster than you can usually pack your stroller.
The Largest Real-World Place Created in Minecraft
In 2014, the Ordnance Survey (the official topographer of Great Britain) pulled the geekiest move in government ever seen outside of Parks & Recreation: They released an updated map of Great Britain through Minecraft. It required 83 million blocks — so maybe you could just start with mapping out the den.
Tallest Floating Slide
You probably don't have the resources around the house to top this Irish water park's 40-foot inflatable slide (you also just learned Ireland has water parks). Instead, you're going to have to rig up your own. All you need is a roof, the plastic slide from your kid's playhouse, a hose, and not a ton of common sense.
Longest Slip And Slide
If you thought that diving through your front yard was fun, what if you could use a slip and slide to commute to work? Jordan holds the record for the world's longest slip and slide, measuring about as long as the Burj Khalifa is tall (more than 2,000 feet). You're either going to need a bigger yard, or some cooler neighbors.
Largest Yo-Yo
The world's largest fully functional yo-yo belongs to Beth Johnson of Cleveland, Ohio. It measures over 11 feet and weighs 4,620 pounds, making it the one yo-yo your kid won't stick in a drawer somewhere and lose forever. Although if you ever attempted to walk-the-dog with this thing you'd probably take out a city block.
Largest Hot Dog Cart
The world's largest hot dog cart is a towering tribute to tubular meat. Built by Missouri's Marcus "Hot Dog Man" Daily, it measures 9 feet 3 inches wide, 23 feet 2 inches long, and 12 feet 2.75 inches high. The sheer magnitude of this cart means only one thing: That water never gets changed.
Smallest Caravan
Or RV, as we call it in the U.S. of A. This trailer for really close families measures about 8 feet long, 5 feet high and nearly 3 feet wide — and yet can still hold a full-size bed, lighting, TV, sink, and kettle. The TV might not seem so essential, but you're going to need it when your wife and kids stop talking to you.
Longest Career As An Ice Cream Man
If the Good Humor man worked in the same truck for 68 years, would the name still hold up? Allan Ganz, Boston's patron saint of frozen treats, has been driving his ice cream truck around town almost 7 decades. Think about it: This man sold Rocket Pops before we went to the moon.
This article was originally published on