Print Real Photos From Your Phone In The Time It Takes To Post Them On Facebook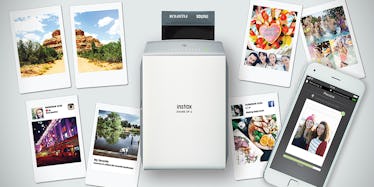 If your daughter devours a handful of sand, but you only capture the moment on your smartphone, did it really happen? (Also, get that kid a sippy cup). There is a more tangible way to let Facebook-less grandparents and old-school friends to enjoy those antics, and that's by printing photos you took with your smartphone on the Fujifilm Instax Share SP-2. It's not as counterintuitive as you might be thinking.
If all you're doing is looking at pictures for half a second and swiping left/right, a real, paper photograph forces you to decide what's important enough to print, and focus on it for more than a hummingbird-fart amount of time. The Fujifilm Instax Share SP-2 shoots out credit-card-size, 320 DPI images from your smartphone or social media via the corresponding app and a decent Wi-Fi connection. And, like your kid eating ice cream, it does so with remarkable speed – 10 seconds a picture! Unlike your kid, however, it's actually quiet.
You can jazz up your shots with fancy filters and color adjustments, as well as templates that let you do stuff like split pics in two or create collages way better than those your third grader keeps bringing home. The battery's good for 100 shots before needing a recharge. Just fill it full of Fujifilm's 2-inch-by-3-inch Instax Mini instant film (about $13 for 20 prints). It may seem pricey, but just think of all that money you'll save at the photo-mats that no longer exist.
This article was originally published on