Fugglers Are the Ugly Dolls Invading the U.S.
They're ugly but honestly pretty adorable. Uglorable?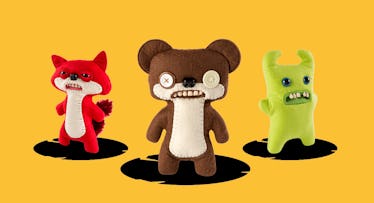 In the grand tradition of the Garbage Pail Kids comes Fugglers, a quirky line of stuffed animals that are designed to be purposely ugly. Already a huge hit in the U.K. the toys who have faces only a child could love are poised to blow up in the U.S. this year.
Fuggler is a portmanteau of "Funny Ugly Monster," and the 50 available collectible characters live up to their name. They all have weirdly squinty or button eyes, often mismatched, and teeth that, to be charitable, suggest a lack of orthodontia.
Each Fuggler comes with a certificate of adoption labeling the Fuggler "mischievous" and "misunderstood" and warning the new owner to "adopt at your own risk." You can even register your Fuggler online, with the option to "begrudgingly agree to let Fugglers people send me emails full of nonsense."
This quirky sense of humor is the hallmark of the Fuggler brand, which began about eight years ago on an Etsy shop, cathairandteeth (now closed), run by a woman known simply as Mrs. McGettrick. Fugglers were born when Mrs. McGettrick bought a set of fake teeth on eBay and attached them to a stuffed animal she had made. There proved to be a great demand for such monstrosities, and Spin Master toys eventually purchased the concept and began mass-producing the dolls.
The original handmade Fugglers will likely become valuable collector's items as the toys become an international phenomenon, but the new Fugglers will inspire looks of joy and/or revulsion on your kids' faces that will be truly priceless. The nine- to twelve-inch dolls are available only in stores at the moment. You can pick one up for $14.99 to $24.99 at Target, GameStop, Hot Topic and speciality retailers. Don't worry: despite appearances to the contrary, Fugglers don't bite.
Every product on Fatherly is independently selected by our editors, writers, and experts. If you click a link on our site and buy something, we may earn an affiliate commission.
This article was originally published on