This 'Frozen 2' Stem Toy Uses the Magic of Real Computer Science
Sufficiently educational kids' toys are indistinguishable from magic.
by Donna Freydkin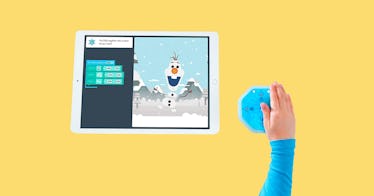 You know what we call pretty magical? Coding toys for kids, morphed with the fairytale phenom known as Frozen 2. You might have noticed that there's a whole slew of new toys from Frozen 2 out. Some Frozen 2 toys are badass. Others, just tired repeats of existing products. But here's a STEM toy that does Frozen 2 fans justice.
Kano, known for its coding kits and DIY computer set, has partnered with Disney to launch a Disney Frozen 2 coding kit. It's a build it yourself creative coding experience, where, thanks to a Bluetooth sensor, Elsas and Kristoffs can code, create, play, and share Disney Frozen moments just by waving their hands.
Here's how it works. Kids get a book, which they follow, to make the actual coding kit, which of course looks like a shiny Frozen snowflake. They connect the board, button, and bits. They connect the code blocks, see the JavaScript, start to learn about loops, logic, and variables.
And when they're done, they wave a hand above the sensors and bring the code to life by paring the kit with the corresponding app. In Frozen, it's the compelling and enchanting characters who drive the story. And with this kit, kids can create and play with Anna, Elsa, Kristoff, Sven, and Olaf, in scenarios they dream up themselves.
Now, STEM toys aren't for everyone. We get it. But we're into this kit because it's a smart way for kids who love Frozen 2 (and there are a lot of them) to do something other than dress up as princes and princesses.
Every product on Fatherly is independently selected by our editors, writers, and experts. If you click a link on our site and buy something, we may earn an affiliate commission.
This article was originally published on