5 Frozen Whiskey Cocktails to Make This Summer
Got a blender? It's practically your summer duty to whip up one of these icy, slushified spins on classic whiskey cocktails.
by Nicholas McClelland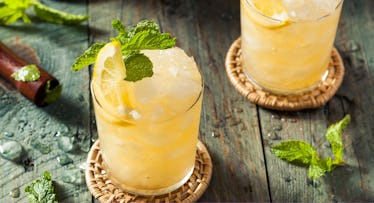 At long last, warm weather is here. That means it's time to bust out the blender and whip up some frosty summer cocktails. While there's nothing wrong with a piña colada or margarita, a proper frozen whiskey cocktail is hard to beat — and one hell of a heat-buster. Now, sure, some purists might say the only acceptable 'frozen' whiskey cocktail is a two-ounce pour and a couple of cubes. But who asked those sticks in the mud anyway? For our money, bourbon, rye, and Scotch serves as one hell of a base for a slushified frozen cocktail. It just has to be the right frozen cocktail. Here are five to make.
Bourbon Slush
At it's core, this is just an adult slushy loaded with delicious, delicious bourbon. We like the richness of Four Roses Small Batch Bourbon's caramel and vanilla notes paired with this drink's fruitiness.
Ingredients
2 cups of bourbon
2 cups black tea (room temperature) 5 cups of water 1/4-1/3 cup of simple syrup 12 oz lemonade concentrate 6 oz orange juice concentrate
Instructions
Mix all ingredients and freeze in a large pyrex bowl. Stir once an hour until concoction reaches a slushy-like consistency. Spoon into glasses and top with an ounce of good ginger beer (like this one from Q Mixers.) Garnish with a cherry.
Frozen Bourbon Milk Punch
Desert in a glass, this icy-sweet version of the New Orleans classic is a decadent treat. For this drink, we think 1792 Bottled In Bond bourbon works well thanks to the complimentary vanilla and butterscotch notes and the contrasting subtle pepper and spice.
Ingredients
1 cup vanilla ice cream
2oz bourbon Dash of vanilla extract Dash of simple syrup
Instructions: Mix all ingredients in a blender. Pour and garnish with a sprinkle of nutmeg
Frozen Blood and Sand
A smoky whisky in a frozen drink? We had our doubts as well, but somehow it works… a little too well;) It's a tipple that's both complex and refreshing. While you can use your go-to Islay Scotch, we prefer Port Charlotte 10 Year Single Malt thanks to its substantial dose of smoke, layered sweetness and fruity finish.
Ingredients
1.5 oz Islay Scotch
1oz blood orange juice 1oz sweet vermouth 1-1/2 tsp maraschino cherry syrup 1/2 Grand Marnier 2 dashes Bitters
Instructions: Mix ingredients and freeze overnight. When ready to serve, blend with a cup of ice. Garnish with a slice of blood orange and a cherry.
Frozen Whiskey Cherry Coke
What's better than a cold Coke on a hot day? Easy, a boozy, icy one and High West's Double Rye adds a little spice for an extra dimension of flavor.
Ingredients
1/2 bottle of Hecho en Mexico Coca-Cola
6-8 frozen cherries 2 oz rye 4-5 ice cubes
Instructions: Freeze the Coca-Cola in an ice cube tray. When totally frozen, add all ingredients to a blender. Pour and top with a cherry.
Frozen Whiskey Smash
Light and easy the frozen whiskey smash is like a julep but with a nice lemon bite. If you make this drink, give it a shot of Old Forester Rye for the excellent spice and touch of molasses.
Ingredients
2 oz Rye
2 oz lemon juice 6 mint leave 1/2 simple syrup
Instructions: Muddle the mint and lemon juice in the bottom of a shaker. Add ice, simple syrup and rye, then shake vigorously. Pour over crushed ice (you can smash it by hand or use a blender.) Garnish with mint.
This article was originally published on