These 'Frozen 2' Down Winter Jackets Look Great. But We've Got Beef
They're $300. They're beautiful. And they're (almost) worth it.
by Donna Freydkin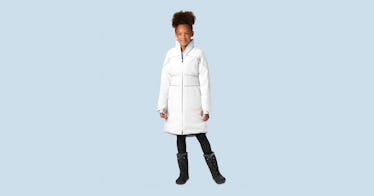 So once upon a time, the kingdom of Arendelle joined forces with Columbia Sportswear to launch a line of Frozen 2 clothes. Down kids' winter jackets, to be specific. As aficionados of all things Frozen, from vanities to STEM toys to a weird Olaf toy, we got to test out two of the jackets. And our feelings are decidedly mixed. Here's why.
First, the positive: The coats are gorgeous. They're truly stunners of craftsmanship and quality. The Anna down cape in maroon has gold hardware and features gold Omni-Heat dots in the lining, giving the outerwear a nicely understated yet regal air.
The Elsa long down jacket is silvery-white, form-fitting, and also has a holographic Omni-Heat reflective lining, for added warmth. The coats cost $300, so we're talking a pretty steep outlay for outerwear. But hey, we dig Columbia. They make good stuff. So it is what it is.
But. But. We're not going to dispute that both jackets are wonders of workmanship. They're royally good-looking. But practical? Not in the slightest. Let us explain, after having actual kids try these out.
The Anna cape, on first glance, is the kind of thing any young girl would wear the second it got cold outside. But here's the thing. It's too warm to wear during the fall, because this thing is padded and the lining retains heat. So, you say, great, wear it during a snowstorm perhaps. But because your arms are exposed, it's not remotely practical for frigid winter days. Unless your kid is into wearing leggings for hands or has no sweat glands.
As for the Elsa jacket, ditto about the design and craftsmanship, and attention to detail. But the bottom of the jacket is long and narrow. It inhibits movement. And that's somehow ironic for a coat celebrating a character who's the embodiment of fierce independence and physicality. Plus, where's the hood? We sort of think that every ass-kicking princess would appreciate the extra warmth.
Every product on Fatherly is independently selected by our editors, writers, and experts. If you click a link on our site and buy something, we may earn an affiliate commission.
This article was originally published on