The Freespirit Journey Trailer Tent Is a Family Car-Camping Fortress
by Dave Baldwin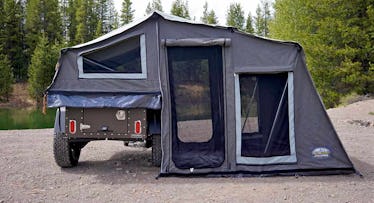 There's nothing quite like the thrill of trying to pitch the family tent in the middle of a thunderstorm while your kids fight in the car to really get you daydreaming about a camping trailer. To help inspire said dreams, check out the Journey Trailer Basecamp.
RELATED: The Best Hiking and Camping Backpacks for Kids
Pretty much the pinnacle in car-camping kits, the Freespirit Journey is a lightweight tent trailer (just over 1,000 pounds, all in) topped with an integrated, all-season 9-foot tent that sleeps 4 to 6 of your favorite family members and/or friends. The all-terrain tow-behind has 45 cubic feet of storage and can be pulled — thanks to an axle-less suspension that can hold 2,000 pounds) — by even the smallest of cars. The overhanging uni-body framed tent, meanwhile, is made of "heavy-duty poly-cotton canvas," can fit a queen-size air bed, and boasts two doors and a separate bunk room. Even cooler: Its expandable PVC cover allows you to store soft gear on top of the tent, so you don't lose precious space inside the trailer.
And assuming you need an extra room for the in-laws and/or a covered front porch to truly turn your campsite into a home away from home, you can easily add an 8-by-14-foot awning or separate annex, the latter of which features removable walls and is big enough for "3 standard cots or full kitchen set-up." At $7,500, it may sound pricey — until you go shopping for an actual RV trailer, at which point you'll realize the Freespirit is a damn steal.
This article was originally published on