Ford's New 'Smart' Baby Crib Simulates a Nighttime Car Ride
Driving through dreamland.
by Dave Baldwin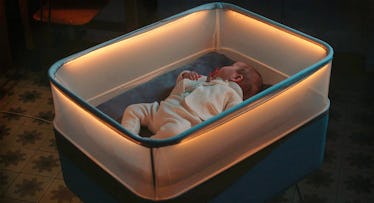 Getting a crying baby to fall asleep in a car is easy ⏤ just drive around the block. Getting that sleeping baby from the car back to their crib, on the other hand … well, good luck with that. But what if rather than bringing the baby to the car, the car came to the baby? That's the clever idea behind Ford of Spain's new MAX Motor Dreams concept crib: It mimics the vibrations, sounds, and lights of a moving car.
The MAX Motor Dreams is a handsome, wood-accented smart bassinet that simulates a nighttime car ride. While speakers play low engine sounds, blinking LEDs recreate the glow of street lights, and the base gently vibrates and rolls to imitate the soft motion of the car.
"There are different cots on the market that make sound or movements," says Paulo Areas, Creative Director at Ford's marketing agency, Ogilvy Spain. "But for us, making a strong connection between the cot and the car was key: our design is made to transfer your preferred car ride to the crib."
So, how will it work?
Simple, parents drive around town ⏤ with or without the kid in tow ⏤ and record the hum of the engine and motion of the vehicle on an accompanying smartphone app. There's no minimum number of miles to drive and users can record specific trips or their favorite routes. After wirelessly syncing the data to the crib, the app is then used to turn it off and on at bedtime. "Parents can set a timer, or they can choose a specific journey to recreate," says Areas. The MAX Motor Dreams doesn't have a sensor to detect when a baby finally dozes off.
Obviously, Ford's crib resembles Dr. Harvey Karp's Snoo Smart Sleeper, and by the company's own admission, it's a bit of an advertising gimmick. The idea was pitched by Ogilvy & Mather as a way to promote the family-friendly CMax & SMax series, and the crib was created by Spanish design firm Espada y Santa Cruz. Sleep experts weren't consulted, and only one crib has been manufactured to date; it's being raffled off for charity.
That said, Ford notes that feedback from parents around the globe has been overwhelming positive and is considering mass production. Until then, though, best to keep practicing that seamless 3 a.m. transfer from car seat to crib.