Best Food Dehydrators To Make Your Own Beef Jerky
In this case, it's ok to be a jerk.
by Donna Freydkin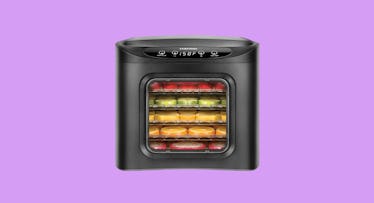 You need a food dehydrator if you love beef jerky.
For the uninitiated, beef jerky is lean meat with the fat trimmed off. It's cut into strips and dried. And once it's dried, it's ready to eat.
Now, you can pull up at your local Citgo and grab beef jerky that's been on the shelves since Ronald Reagan was president. Or, you can make your own. Daunting? Not if you buy a simple appliance called a food dehydrator to make your own at home. You pick the kind of lean meat you want, and you can choose between beef or venison or turkey or even buffalo. You flavor it however you want. And you wind up with a great snack that's rich in protein. Plus, you can use dehydrators to make everything from dried herbs to kale chips.
Behold, some top-notch food dehydrators for all your beef jerky needs.
Carnivores will love the Nesco, which dries your meat fast and evenly. No cooking experience required: You simply flip the switch and the temperature is set automatically to get you precise results. You can make up to seven pounds of jerky at one time.
No more dubious beef jerky ever. The Gourmia food dehydrator has six trays to make perfect jerky, every time, thanks to its precise and idiot-proof drying technology.
We love the touch-screen functionality of the Chefman food dehydrator. It's got an integrated countdown timer that allows you to dehydrate for up to 19.5 hours for epically perfect jerky. And it shuts down when it's done.
The NutriChef food dehydrator has five stackable trays and like other models, has high heat circulation. It makes beef jerky, along with veggies and fruits. It's stupidly easy to use: You place your prepared food onto as many trays as needed, put on the lid, turn the device on and let it do its thing.
Slightly more complex than its brethren, this Nesco food dehydrator has a drying system that provides fast, even, and nutritious drying and the top-mounted fan make sure liquids won't drip into the heating chamber.
Forget the dried-out meat husks of yesteryear. Krave's jerky is made of pork, infused with black cherry barbecue sauce and is lean enough to snack on. It has a solid nine ounces of protein per serving.
Every product on Fatherly is independently selected by our editors, writers, and experts. If you click a link on our site and buy something, we may earn an affiliate commission.
This article was originally published on