A Foam-Dart 'National Blaster League' Is Coming Soon
Get ready to take the battle out of the basement.
by Mike Dojc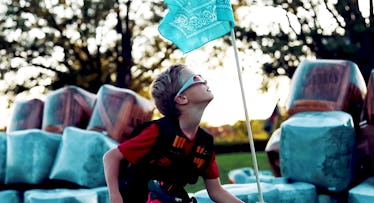 Unlike paintball and Airsoft, which boast elaborate battlefields and competitive leagues, most Nerf wars are ad hoc and confined to the basement, backyard, or break room. You hide behind couches and blankets, and there are few places where a group of kids or office mates can go to engage in a day of competitive foam-dart fighting. That may be about to change. A 'National Blaster League' is reportedly in the works and hopes to debut in cities across the country later this year.
Details remain scant, but the league is the brainchild of the folks behind Playview Brands' Battle Bunkerz, a line of inflatable battlefield obstacles (oil barrels, wood crates, jumbo tires, and concrete blocks) that can be stacked together to create fighting positions or fortified hiding spots for Nerf battles. A four pack of Battle Bunkerz are made of PVC, feature a dual-cavity design (so you can fill the bottom with water to weigh them down so they won't blow away in the wind during outdoor play), and currently sell for $25. They also come with mission cards that help players add RPG-style scenarios into real-world Nerf fights. The league, they contend, is a natural next step in their goal to gamify blaster play.
"The National Blaster League for us is a natural extension of blaster play rooted in live action team battle games and tournament style events," says Playview Brands Senior Vice President Andrew Sparkes. While Sparkes can't reveal too much, as he's currently in active negotiations with partners and locations, he did tell Fatherly that the league will be geared toward young adults and the rules rooted in objective based gaming. Again, think real-world versions of video game missions from "capture the flag" to "zone control."
Much like paintball, referees will preside over the playing field. But the game will also rely a bit on the honor system ⏤ after all, foam darts don't leave an obvious mark when you get shot.
"We are trying to take that backyard play fun and formalize it a little bit so that it's goal orientated, and there are tactics and strategy," says Steve Donahue, Bunkr's director of product development.
In addition to the objective-based games, however, there will also some every-kid-for-themselves mayhem thrown into the mix. "At the end of the day," says Sparkes, "We're creating a league and a product that's rooted in joy, so it's got to be fun."
The National Blaster League's website should go live in the next few weeks, with announcements on locations and team info released by the summer.
This article was originally published on