This Balance Board ​Helps My Kid Burn Energy When He's Cooped Up Inside
It'll also give them a leg up on learning how to snowboard.
by Brendan Charles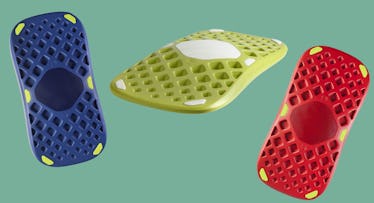 FluidStance
My oldest kid spends a lot of time outside playing sports. Hockey, leaf bag football, general running around ⏤ he's an active kid who loves to move. Coop him up inside for too long, and he gets twitchy. There's only so much energy you can burn doing laps around the living room couch. In the summer when the weather is nice outside, it's rarely a problem. But we live in the Great White North, and thus, are always looking for a way to keep him moving on winter days when it's negative 40 degrees out.
Naturally, you can imagine our excitement when FluidStance offered to send over one of their kid-sized Grade balance boards for a test ride. The temps were starting to dip, and the timing was perfect.
Now, FluidStance decks are made primarily for adults stuck in the office all day. They're designed to help people "engage in natural movement" at their standing desks and claim to help improve happiness, burn calories, and expand your range of motion, among other things ⏤ all while getting your work done. It's called non-distracting motion.
The FluidStance Grade is the company's smaller kids' model. It measures two-feet by one-foot, is made of recycled milk jugs and tires, and can hold up to 125 pounds. Obviously, since few 6-year-olds are logging long hours at the office, it's geared toward use doing homework, reading, or gaming. The benefits, however, remain the same. Plus, in the case of kids, it helps burn off all the extra energy so they don't spend three hours trying to fall asleep.
The FluidStance Grade basically looks like a skateboard with a rounded bottom. Honestly, it's not unlike a balance board you'd find in a gym ⏤ just better quality. When I first put the deck on the floor in front of my 4-year-old, he wasn't sure what to do with it. Hockey sticks? Soccer balls? Monkey bars? Sure, he knows the drill. But balancing for the sake of, well, balancing? That wasn't something we'd introduced him too. After staring and poking at it with his foot a bit, he finally agreed to hop on.
And like a surfer riding a gnarly wave, "Whoaaaaa…" was the first word out of his mouth. And that's exactly what he looked like ⏤ a kid riding a snowboard, surfboard, or skateboard. He shifted his weight, bent his knees, tried some spins. I was surprised how naturally it all came to him. I thought hockey was his destiny, but he'll clearly have a future for him on the slopes, as well. I especially liked how it was introducing a new element of physicality into our play. His favorite thing to do became "spinning" it, where I hold his arms above his head and he just twists back and forth on it like a wind-up toy.
Granted, it wasn't all smooth sailing, especially when our toddler tried to emulate his big brother. It's more of a "big kid" toy and not something particularly safe when more than one kid tries to get into the mix. Specifically, when the board leans completely to one side or another, it has the potential to squish nearby toes. That said, I set up a one-foot safety perimeter and just let him go. And when they're done, the FluidStance Grade is compact enough to tuck neatly away. Although if your kid is anything like mine, it won't stay hidden for long.
Overall, the FluidStance Grade was a big hit with my son, at least out of the gate. We'll see how interested he is at the end of a long winter, as well as whether he eventually starts to use it while reading or doing his homework. He's still young and light enough that he's got plenty of time to take full advantage. It's not necessarily cheap at $129, but it is well constructed. And if you have a kid who lives in perpetual motion or could use a little help honing their balance, the FluidStance Grade seems like a pretty cool option.