8 Great Men's Flannel Shirts to Wear This Fall
Whatever fall throws your way, these shirts can handle.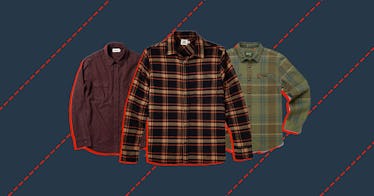 The flannel shirt is the Stanley Tucci of your wardrobe: reliable in every single role. Seriously. When the weather dips down, there's no better shirt to throw on, or over than this classically rugged American essential.
Warm, soft, and available in a wide array of colors and patterns, the best men's flannel shirts let you stand out or stay traditional. Sure you can go with the classic black and red, but that's hardly the only option. There's a flannel shirt that works for pretty much every occasion, from office meetings and apple picking to laid back family days and nights beside a fire.
In any case, the right flannel shirt comfortable and capable of layering in pretty much every scenario. You can wear it over a long sleeved shirt or a graphic T-shirt. A more subtly patterned flannel works under a blazer for business casual. And, of course, a flannel works all on its own, sleeves rolled up. From rugged to office ready, here are some of our favorite men's flannel shirts to wear.
How to Roll a Shirt Sleeve The Right Way
There are multiple schools of thought and plenty of tutorials on how to fold a shirt sleeve. You don't want sloppily rolled sleeves that hang off your elbows, nor do you want shirt sleeves rolled too high and tight. Our advice: Go for a happy medium, especially as flannel is a heavier fabric than, say, a more traditional Oxford cloth shirt.
Here's how to do it: Unbutton the shirt cuff button and the "gauntlet" button (the button or buttons slightly further up the sleeve on your forearm). Flip the shirt back one cuff length, and then roll the fabric over once (or twice, your call!), before tucking the corners in, for a cuff that hits mid-forearm and stays in place.
This article was originally published on