The Best Fitness Equipment, Gadgets, And Trackers For Dads
Here's what every dad needs to stay motivated, hydrated, and thoroughly worked over.
by Jen See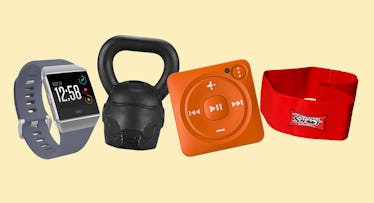 There's an endless array of fitness products out there — nutrition supplements, tracking gadgets, and exercise equipment. It can be difficult to separate what's actually going to help you stay fit from the duds that'll waste your precious time. We caught up with Dane DeLozier, a physical therapist and personal trainer at REVO Physiotherapy and Sports Performance in Boulder, Colorado. He's a certified athletic trainer and has a Ph.D. in physical therapy. Here are his go-to fitness gadget recommendations.
Onnit Kettlebell
Kettlebells are a versatile fitness tool. "If you're going to have one piece of fitness gear, the humble kettlebell should make your short list," says DeLozier. Thanks to the growing community of kettlebell fans, you can readily find workouts online to expand your repertoire. "With a variety of traditional strength movements that include swings, presses, and squats, you can't go wrong," he says. Try one of Onnit's unique designs or go traditional. The brand is also taking pre-orders for their Star Wars styled kettlebells.
Fitbit Ionic
Earlier this summer, Fitbit released a new smart watch, the Ionic. Given the brand's DNA, it's no surprise that the fitness gadget is packed with features that help you monitor and increase your fitness. "My Fitbit helps me track performance as I run new experiments in my diet and exercise," says DeLozier. "My favorite part is the sleep tracking with the improved sleep stages function," which shows you how much time you're spending in light, deep, and REM sleep. For runners and cyclists, built-in GPS allows you to create routes and keep tabs on your mileage, while gym rats will want to upload workouts. A touchscreen offers access to apps and other information, and the Ionic will store music to play via Bluetooth. "The smartphone notifications help me stay on track at work if I sneak out for a midday workout," says DeLozier. But the best part: The Ionic is tough. It includes a four-day battery life and it's waterproof to 50 meters.
Hip Circle 2.0
The Hip Circle is a burly elastic band that's great for working your lower body. "It helps you warm up and train your glutes and hip external rotators when squatting and deadlifting," says DeLozier. Those are important areas to hit if you spend a lot of time at a desk. You can also use the band to warm up ahead of your workout, and it's great for working the small muscles in your back. To activate your hip rotators, place the band above your knees and do side steps. "Keep it there during your squat or deadlift workout to train your glutes, for real."
Healthy Skoop Daily Greens
Odds are your diet suffers when you're busy. "When my schedule gets crazy or I'm traveling a lot, it's really hard to eat clean," says DeLozier. His solution: Healthy Skoop Daily Greens. It's a supplemental mix made with organic fruits, vegetables, and antioxidants. Add a scoop of to eight ounces of water, milk, or almond milk, or build it into your morning smoothy. "It tastes great and makes me feel awesome." It might also help undo some of the damage from all the chicken fingers you've been eating.
Rogue Gymnastic Rings
Hang some Rogue Gymnastic Rings in that unused corner of the garage and you've got a versatile fitness gadget. "They're a great way to train with pushing, pulling, and any core combination that you can think of," says DeLozier. Rogue builds their gymnastic rings from wood, which gives them a textured, easy-to-grip surface, and the rings are suspended from heavyweight nylon straps. "Rogue's rings are a classic in strength and conditioning that will last for years." If you need extra strap sets, Rogue sells those for $25.00.
Mighty
You've collected a library of Spotify playlists you love, but you'd rather not carry your phone during your workouts. That's where Mighty comes in. The small, clip-on fitness gadget plays Spotify on-the-go, pairs with Bluetooth headsets and speakers, and has a battery life of up to five hours. It's designed to be drop- and water-resistant. Download the Mighty app to sync your playlists, and then your music is stored offline, so you don't need an internet connection to jam out.
Nuun Electrolyte Tablets
Once dissolved in water, Nuun's electrolyte tablets provide an energy drink that contains a gram or less of sugar, which come from plant-based sweeteners rather than artificial flavoring. The tablets contain sodium, potassium, magnesium, and calcium to help your body absorb fluids more efficiently, and at just 10 calories per tablet, they won't interfere with your nutrition plan. Available in 13 flavors, some of which include caffeine. Sold in packs of 10 tablets.
This article was originally published on