The Fitbit Versa Sale Gives You Zero Excuses to Skip the Gym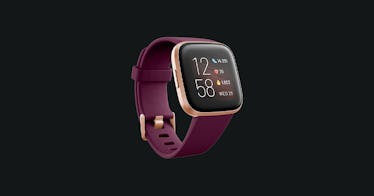 The Fitbit Versa 2 was released last year, and we're happy to report that the Fitbit Versa sale is major. Its price, at least in theory, is $200. The popular smartwatch is an improvement on the first Versa, and this fitness tracker watch includes features like Amazon Alexa compatibility, a bigger screen, and longer battery life. It's one of our favorite after-Christmas sales because everyone could use a little workout boost in the new year. And if you haven't yet found your mojo in the new year, a great workout watch can be the boost you needed. Plus, it can improve your sleep.
What makes the Versa 2 an upgrade? It comes with Amazon Alexa built-in, so you can check news and the weather, and use the watch to control your smart home devices. Thanks to its Sleep Score functionality, the Versa 2 tracks how much quality shut-eye you get and the quality of your sleep. It has an always-on option. And of course, it tracks your heart rate, calories burned, steps walked, hourly activity, and active minutes. It has a six-day battery life.
The GPS 44mm model is has an always-on retina display and a 30 percent larger screen. Its highly detailed exercise metrics, plus workouts for every taste and fitness level, are pretty killer, too. It has a feature that pushes you to move around and get off your ass.
This thing sure is handsome. It has a larger display and an always on option, plus it lets you play your tunes and track your sleep, as well as your heart rate, steps, distance, calories burned, hourly activity, active minutes and floors climbed.
The original Fitbit Versa is also pretty fully loaded. You can track your all day activity, 24/7 heart rate, and sleep stages. The battery lasts four days. You can choose between 15 exercise modes, from running to swimming.
Every product on Fatherly is independently selected by our editors, writers, and experts. If you click a link on our site and buy something, we may earn an affiliate commission.
This article was originally published on