Fisher-Price Recalls 65,000 Soothing Motions Seats Due to Overheating Motors
After 36 reports of overheating motors and one fire, Fisher-Price offers a full refund.
by Dave Baldwin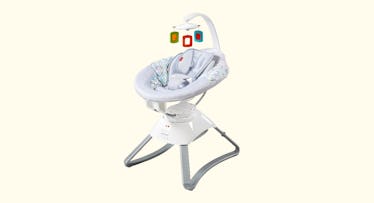 If your infant is currently swaying in one of Fisher-Price's Soothing Motion Seats, calmly turn it off and remove the baby. And then never use it again. The company issued a recall for 65,000 of the seats this week, citing 36 reports of overheating motors that pose a fire hazard. In one case, it actually did catch on fire.
The popular seats in question bounce, sway, and vibrate, as well as play 10 songs and nature sounds. The Soothing Motion Seats model numbers being recalled include CMR35, CMR36, CMR37, and DYH22, and the number can be found under the motor housing. The Smart Connect Soothing Motions Seats with model number CMR39 is also in the mix.
All of the Fisher-Price Soothing Motion Seats were sold online or in big-box stores between November 2015 through October 2017. Customers can contact Fisher-Price at 800-432-5437 or service.mattel.com for a full refund.
It has not been a particularly strong month for baby product safety. Diono had to recall over 500k car seats after testing reveals safety flaws while Playtex called in 5.5 million plastic plates and bowls due to a potential choking hazard. And back in May, Graco was forced to recall 25,000 My Ride 65 convertible seats due to faulty harness webbing. For a list of all the other baby and children's products recalled last month, click here.