Fisher-Price's Batman Xtreme Is a 2-Foot Tall, Rocket-Firing Batman Robot
The Fisher-Price Batman Xtreme is basically a 24-inch tall rock 'em sock 'em Batman robot that fires missiles, throws punches, and lets you speak through it.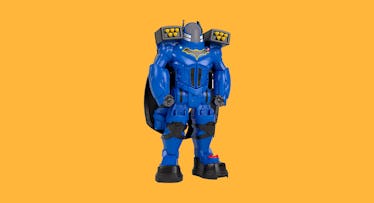 Batman is, at his core, a grim character. He is, after all, the Dark Knight. But, with the bulk of his on-screen presence being showcased in the gloomy DC Extended Cinematic Universe, the Caped Crusader hasn't been all that fun for kids. And neither have his toys. Well, the Fisher-Price Imaginext DC Super Friends Batbot Xtreme is here to remind us how awesome batman can be. This two-foot tall rocket-shooting bat-robot is so insanely cool, it almost makes up for the nippled bat suit. Almost.
The first description that comes to mind when beholding this bionic Bat-brute is: "Imagine if Batman had his own personal Autobot…" It's a gigantic, 24-inch tall, bad guy-beating behemoth that just begs to be played with while yelling "POW!" "BLAM!" and "SMASH!" And even though it's toddler-height, the size and heft of this toy is the least impressive feature. It's list of awesome additions and Bat-gadgets is so extensive, it's got something to vanquish every villain in Gotham City.
Let's start with "Battle Mode". With the turn of a specialized "Power Pad", your Batboy or Batgirl can engage Batbot's combat system, which means dramatically extending its wings to prepare for a showdown. Taking its cues from the timelessness of a Rock 'Em Sock 'Em Robot, the Batbot Xtreme also features squeezable triggers on the back of its legs that, when pressed, deliver a supercharged one-two punch to every formidable foe.
If an enemy is still standing, you can rotate another Power Pad, and you'll reveal a secret elevator in Batbot's chest that carries the included Batman figure up to the cockpit, where he can launch ten foam missiles in just seconds. Lower Batman back down to ground level, where a final Power Pad will give you access to the hidden Batcycle in Batbot's foot, so you can send The Dark Knight racing into action.
One final feature – and, likely, the one you'll play with the most – is the built-in voice changer. Yep, you can press a button, and talk through Batbot's integrated microphone/speaker combo to transform your voice into Bale and Affleck's worst nightmare a legit sounding Batman voice that doesn't resemble Cookie Monster. It's perfect for dressing down baddies, or confusing the family dog.
Batbot Xtreme is compatible with all other Fisher-Price Imaginext DC Super Friends figures, playsets and vehicles. And, at a modest $75 (with three AAA Bat-batteries included), you don't have to be Bruce Wayne to afford it.
Every product on Fatherly is independently selected by our editors, writers, and experts. If you click a link on our site and buy something, we may earn an affiliate commission.
This article was originally published on