This Rack Stores Your Fire Pit, Wood, and Gear
Consider this a closet that keeps your fire pit and supplies out of the way and protected when not in use
by Sal Vaglica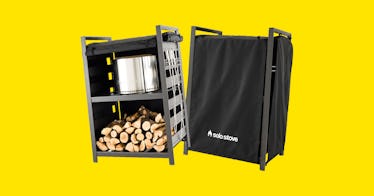 If you have a fire pit, chances are that thing is burning from Memorial Day deep into the fall. Portable fire pits, like the Solo Stove, have rocked to the top of the outdoor entertain heap, and with good reasons. Made of metal, these pits are lightweight, easy to move, and with less commitment than heavier masonry counterparts. But until now, no one has offered a fire pit with wood storage. Enter Solo Stove's Station
To really make fire pitting a lifestyle, you need a storage solution—like you have for your grill. Something to keep your gear protected, out of the way when not in use, and easily accessible. The Station is Solo Stove's modern take on a log rack. Made from powder-coated aluminum, the Station will never rust. It protects the fire pit and wood on all four sides from the elements. And you don't need a Solo Stove to use it. The two cubbies formed by the shelves are 20x34x24, so they will hold most pits that are 2-feet wide. Fill both with up to 250 pounds of firewood, or stash a pair of fire pits in them.
Build this near the patio and your wood, pit, and the utensils you need for s'mores are always at the ready and protected.
Every product on Fatherly is independently selected by our editors, writers, and experts. If you click a link on our site and buy something, we may earn an affiliate commission.
This article was originally published on