Finished Watching Get Back? Now Build Your Favorite LEGO Beatle
Spend a few hours piecing together a wall worthy portrait — starting with George, of course.
by Sal Vaglica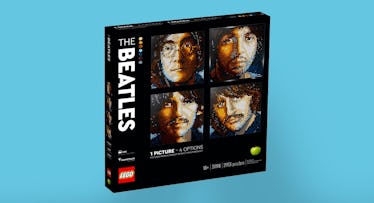 While this 2,933-piece set is made up mostly of simple, smooth topped 1×1 rounds in about a dozen colors, the result is a 15 3/4-inch square, wall-worthy Beatles mosaic. But you're going to have to work for it. The Beatles set, part of Lego's Art series, is a mosaic with each box containing the parts and instructions to build one of the four icons. The likenesses are pulled from The Beatles white album and if you want the fab four all at once, you'll have to buy four kits.
The set consists of nine black, square plates that, when held together by Technic pins, acts as the canvas. You build each face in nine parts, using color-by-number-like instructions, then click the plates together to create the mosaic. The kit comes with a booklet, featuring the With the Beatles cover photo, and inside you'll find details about the design of the set, a timeline of Beatle albums, and instructions to build each of the four faces. On the box, and in the booklet, is a QR code you can scan with your phone to head over to a Lego page where you can listen to a custom, hour-long playlist while building that includes the designers sounding off about the build.
Speaking of hour-long, it can take anywhere from 3 to 5 hours to build each face. To help things go faster, grab about a dozen paper plates or bowls and separate out the parts by colors. It might not be the most imaginative building experience, but once you're done, it's a wall-worthy piece of artwork — Lego even designed hooks in the back that are meant to hang off a nail.
Every product on Fatherly is independently selected by our editors, writers, and experts. If you click a link on our site and buy something, we may earn an affiliate commission.