Fingerlings Are The Toy Your Kids Will Be Begging For This Holiday
Get 'em before they're all over eBay.
by Dave Baldwin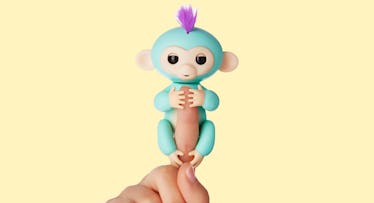 Amazon. Walmart. Toys 'R' Us. All three retailers recently released their lists of hottest holiday toys. And all three share one noticeable standout: WowWee Fingerlings. They're charming robot monkeys that latch on to kids' fingers and get excited when their little heads are rubbed. And they're about to be shimmying on everything.
Similar to last year's hot-ticket toy, Hatchimals, Fingerlings are interactive, brightly colored, and collectible. They were released last month by WowWee and come in six different-colored characters (Zoe, Mia, Finn, Boris, Bella, Sophie), each with fun-fact backstory. For example, Boris likes to laugh and Mia has an insatiable curiosity. You get the idea.
The big sell with these Tamagotchi-like baby monkeys, however, involves their moderately sad tagline, "Friendship at your fingertips." They're designed to react to sound, motion, and touch. Pet their fuzzy mohawks, and they'll coo and blink. You can blow them kisses, rock them to sleep, hang 'em upside down, whatever. In fact, clap twice and they'll sing you a damn song — they make 40 different sounds. Including burping and farting!
And while Fingerlings will pretty much grab onto anything ⏤ from a soup spoon to a tennis racket ⏤ WowWee is also selling playsets from which they can hang. There's a jungle gym, a seesaw, and monkey bars.
Who really knows whether the toy industrial complex collectively deemed Fingerlings the "it" toy of the season, but it's safe to say they're growing in popularity. And if they haven't already, the odds are high that they'll latch onto pole position as the toy to beat this holiday season. Which means you may be wise to casually inquire as to whether the kids have already heard about them. And if so, get yours early. Fingerlings cost $15 a pop, but who knows what they'll cost when the holiday dash begins and they're on eBay at 9x the price.
This article was originally published on