The Newest Fingerlings Toy Is an Interactive Stuffed Animal. And It Is Very Charming
Say hello to Fingerlings Hugs.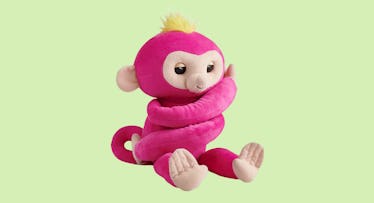 Brace yourselves: Fingerlings are back. After adding four dinosaurs and a limited edition unicorn to the original lineup earlier this year, Wowwee Toys is releasing a brand new version of Fingerlings, its massively popular interactive toys that react to sound, motion, and touch. Called Fingerling Hugs, they are bigger, softer, and cuddlier version of the interactive primates. They are very charming.
The two available Fingerlings Hugs are named Bella (pink fur, blonde hair) and Boris (blue fur, orange hair), both are characters lifted from the original Fingerlings line-up. They're about a foot and a half long from head to toe, the size of an average stuffed animal. While original Fingerlings wrapped around, well, fingers, Hugs are designed to wrap around necks, hanging on in a perpetual hug (get it?) with the help of velcro on their hands.
Fingerlings Hugs, which run on four LR44 batteries, have a similar suite of interactions as their tiny brethren but are more precise. Press your nose to her cheek, for example, and you'll hear a kissing noise. Shake it and you'll cause a fart and a giggle. Tickle its belly and you'll get an extended giggle. Rock it from side to side and you'll see its eyes close and hear heavy snoring. To make it cackle, hold it upside down. Throw the toy in the air or swing it in a circle you'll hear a giddy "Wheeeeeee!"
One feature, however, that might drive you mad: There's a button on the left ear. Hold it down, say something, release it, and the Fingerling will repeat what you said in its high-pitched voice.
In any case, you better prepare yourself. Considering the popularity of Fingerlings, the smart money says that Hugs are going to be a huge hit this holiday season. Wee recommend avoiding the jacked up prices of the resale market and buying one now while they're still in stock.
This article was originally published on