A Toilet Cleaning Robot Is Finally Here to Do Your Dirty Work
And apparently it'll clean the bowl (and seat!) in less than two minutes.
by Dave Baldwin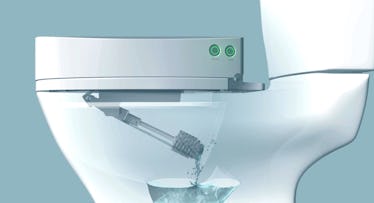 SpinX
There are robots to mow the lawn, weed the garden, shovel snow, and fix cocktails, but nobody thought of inventing one to do the single worst chore on the planet ⏤ cleaning toilets. So why doesn't a crapper-cleaning robot exist? It's a gourd-scratcher for sure. But also, thankfully, no longer worth worrying about because SpinX, a fully autonomous toilet-cleaning robot, is here. The gizmo just got funded on Kickstarter and should be cleaning latrines by next summer.
Invented by a husband-and-wife team with four kids who, like everybody else, hate cleaning the john, SpinX is as much a robot as it is a self-cleaning toilet seat. It fits on any standard bowl and features a rotating brush that drops out of a hidden compartment when activated. It then uses a smart sensor to scan the toilet's shape before injecting the soap and getting after the scrubbing. From there, tiny soap/water jets spray down the seat and compressed air blowers dry it off. The SpinX's scrub brush, which is self-sanitizing and drying, retreats into the seat compartment when finished. The whole thing reportedly takes less than two minutes, and no gloves are required. It gets 30 cleanings on a single battery charge and 50 on three balls of soap.
Now the big question, how much is it worth to never clean the toilet again? If you said $200, then you're in business — that's what SpinX is currently selling for. Of course, it will eventually retail for $350. You can pre-order online for an estimated July 2018 delivery.
This article was originally published on