Filson's Popeye Collab Features the Best New Men's Hoodie In a Long Time
It's a partnership worthy of both brands.
by Jon Gugala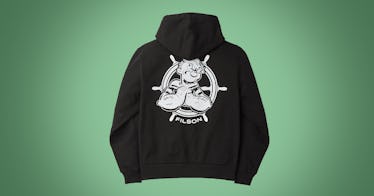 Filson
Oilcloth was man's first waterproof fabric, utilized in slickers for seamen who sailed the seven seas in the roughest weather. It's no wonder, then, that outfitter Filson, long known for its waxed cotton (the direct descendant of oilcloth), would partner with the spinach-loving sailor Popeye (precursor to the modern protein powdered bro) for a men's clothing collaboration that elevates both. The Seattle-based company has launched a five-piece collection featuring Hulk's forearmed forefather that includes an instant-classic hoodie with "I yam what I yam" vibes.
Launched in 1897, Filson has been on the scene longer than Popeye himself, who E. C. Segar spun up in 1929, well before the legendary Robert Altman, Robin Williams collab that sunk into the see off Malta. So why is a menswear brand getting in bed with an Olive Oyl chasing brawler? Well, there's some overlap there. These are American originals. These are gritty classics. These are names that hold a little weight down at the docks.
Beyond the hoodie, which is the clear winner here, Filson's collaboration includes two cotton shirts and a double-layer cotton fleece sweatshirt, all of which feature the trademark wink and the corncob pipe (basically an old school vape). Additionally, there's a stoneware mug and a special sticker pack to commemorate the collaboration.
Every product on Fatherly is independently selected by our editors, writers, and experts. If you click a link on our site and buy something, we may earn an affiliate commission.
This article was originally published on