This Stunning New Filson Watch Is Equally at Home in the Boardroom or at the Top of the Tetons
It's inspired by watches that used to be issued to U.S. military troops.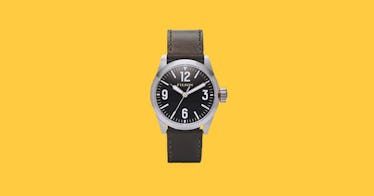 There's no shortage of sleek, stylish watches that even your kids could enjoy one day. But our new obsession is Filson's simple, rugged Field watch. Not only does it look tough as all hell, but it's stylish enough to wear with pretty much any outfit you could think of—making it a piece we're excited to wear every day.
That inspiration carries over into its functionality. The hands and markings glow, so you can tell what time it is in low light conditions, and the crown is water-resistant up to 100 meters. Each marking is huge, making it easy to quickly check. And powered by quartz movement, it'll never fail to give you the right time.
The body is made from a tough (but elegant) stainless steel case, and a scratch- and reflection-proof crystal face means it's as durable as it is polished. The face is 41.5 millimeters, making it a great mid-way point between bulky and small. So no worries if you have skinny wrists (and some of us definitely do). The 22-millimeter leather strap feels well-worn and rugged—without, again, being too bulky. Trust us, it'll look good on any wrist. Even yours.
In terms of colors, there's a few versions, but only one is available at the moment. Fortunately, it's our favorite: black and brown. The two colors play off each other excellently, and like we said before, the Field Watch pairs pretty much seamlessly with any outfit you could think of. It undoubtedly looks great with a pair of jeans and a t-shirt, but it'll give a nice touch of the rough-and-rugged with a pair of chinos and an oxford. It might not exactly be formalwear, but really, how often are you in a penguin suit?
And finally, we definitely (if reluctantly) love the price. A practical bargain for what you're getting: an awesome mid-range watch that you—or someone you know—will wear for years and years. It makes the perfect gift for Father's Day, birthdays, Christmas, or just, y'know, a one-off gift for yourself. We're telling you, it'll look great on any wrist. Even yours. Especially yours.
Every product on Fatherly is independently selected by our editors, writers, and experts. If you click a link on our site and buy something, we may earn an affiliate commission.