Fidgetly CTRL Shows That Fidget Spinners Aren't Over, They're Getting Smarter
The new Bluetooth-enabled CTRL spinner lets you play games on your phone.
by Dave Baldwin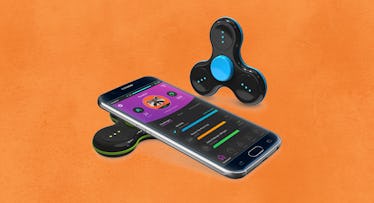 Fidget spinners aren't done yet. In fact, they may be getting more high-tech, even as the fidget spinner fad continues its death march. Unveiled last month, the Fidgetly CTRL is a Bluetooth-enabled 'gaming fidget spinner' that syncs to a smartphone. Once paired, you can play games, compete against other spinners, and track vital spinning stats that you otherwise never much cared about.
True to its name, Fidgetly CTRL also works as an actual 360-degree controller for non-spinning phone games. So, instead of touching the screen, you turn the fidget spinner to move your character or direct the action. Assuming, of course, you're not also holding the smartphone in your hand.
Inside Fidgetly CTRL is an accelerometer, gyroscope, hall-effect sensor, and LEDs ⏤ all powered by simple watch batteries ⏤ and it's made of plastic with ceramic hybrid bearings. While the company is hoping the Fidgetly CTRL gives new interactive life to fidget spinning, true enthusiasts shouldn't expect record-setting gidget spinner times. Currently, tabletop whirls are clocking in between one and four minutes, so nowhere near the 12-20 minute-range hit by Japanese engineers and certain military-grade fidget spinners out of Michigan.
Still, the Fidgetly CTRL is currently available for pre-order in five colors (collect them all! But, really, don't.). They cost $40 a pop and will be ready for spinning and controlling by the end of the month.
This article was originally published on