This Pint-Sized Ferrari Testarossa Might Be The Most Expensive Kid Car Ever
One of three originally made in the 1990s, it's been fully restored and is selling for $97,000.
by Dave Baldwin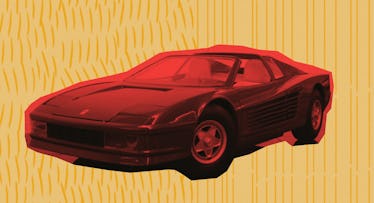 Want proof that the economy is doing well? Look no further than the luxury kids car market: It's booming. First, Tesla released a pint-sized Model S. Then McLaren and Morgan followed suit with scaled-down versions of the P1 Roadster and EV3 Junior. And now? Well, a British garage, Riddelsdell's, has restored a '90s-era go kart model of the Ferrari Testarossa, and they're selling it for a cool $97,000.
One of three tyke-sized Ferraris originally made for the luxury department store Harrods (and sold for $45,000 each), the restored fiberglass Ferrari Testarossa reportedly features a leather interior, working gauges, retracting head-lights, and an official Ferrari steering wheel for authenticity. Unlike most of today's toy cars, however, it rocks a sub-200cc lawnmower engine instead of a 12-volt battery and can hit a top speed of 25 MPH. Electric vehicles for kids, on the other hand, usually max out around 6 MPH.
The original Ferrari Testarossa, by the way, was manufactured between 1984 and 1996 and gained popularity on television shows like Magnum P.I. and Miami Vice. It could hit top speeds of 180MPH and sold for around $181,000. Today, used models still sell online for upwards of $259,000.
Assuming your little Tom Selleck misses out on this one-time deal, turns out it's not the only Ferrari Testarossa on the market. Interestingly, there's an LA-based company named Cars for Children (not to be confused with the charity Kars 4 Kids) that sells hand-built Testarossas (featuring 5HP engines and two-speed automatic transmissions) as well as a scaled-down version of the Mercedes 500SL. It's unclear, but this may actually be the company that made the original in the first place. Or, you could just roll with an off-the-shelf $300 Ferrari F12 and let the pimp-your-ride specialists at Miami-based KidStance do their thing.