8 Great Single Malts to Buy Scotch Lovers This Father's Day
From excellent, lightly-aged bottles to those that have been sitting in casks for a quarter century.
by Nicholas McClelland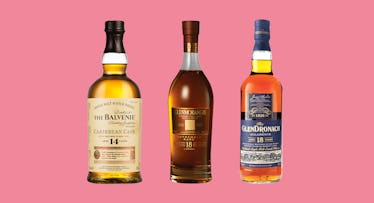 Mark Twain once said that "too much of anything is bad, but too much good whiskey is barely enough." While, yeah, a bit worrisome, anyone who enjoys a glass of single malt scotch can understand the sentiment. The classic smoky spirt is the ideal sipper. Sure, you can use it in a cocktail (there's nothing wrong with the occasional Blood and Sand or Rusty Nail) But it's best by itself in a glass or with a couple of cubes or a splash of water. If you or someone you know is a tried and true Scotch drinker, or simply someone who enjoys a special occasion glass every now and then, here are eight bold bottles of scotch that are great for Father's Day.
Glenmorangie Original 10
It can be hard to find a great single malt for a reasonable sum. Made in Scotland's tallest stills, Glenmorangie Original is a brilliant, complex, layered dram. Light and fruity, it's a great daily drinker and an excellent whisky for sharing. At less than $40, most can afford to.
The Macallan Sherry Oak 12 Years Old
This Speyside icon has been, for many aficionados, the gateway whisky that inspired a foray into single malts. Sure to bring a smile to any Scotch fan's face, The Macallan 12 is the legendary distiller's entry point bottle. The whisky ages for a dozen years in Spanish Sherry casks sourced from bodegas in Jerez giving it lovely notes of oak, fruit, and spice as well as a sweetness that makes it eminently approachable, even for whisky noobs.
Balvenie 14 Year Caribbean Cask
After aging for 14 years in traditional oak casks, the Balvenie 14 Year Caribbean Cask is finished with a short stint in ex-rum barrels. The result is a delicious Speyside single malt with subtle notes of tropical fruit and nuts — a great whisky for Summer.
Lagavulin 16
Islay whisky can be a bit intense for the novice Scotch drinker. But once you develop an appreciation for the hallmark peaty smoke, you'll savor every drop. Lagavulin 16 is an Islay classic with loads of subtle flavors to discover and a salty sweetness that balances out the intense smoke.
Glenmorangie 18
While we wouldn't call a $120-a-bottle whisky a value proposition, exactly, a glass of Glenmorangie 18 feels like a dram that should be the price of a double. The 16 men of Tain, operators of the Glenmorangie distillery, put the spirit to bed for 15 years in American white oak casks, then separate a portion for an additional three-year nap in Oloroso sherry casks, while the remainder hits the snooze button. At the end of those 36 months, the lot is reunited to create a deeply complex whisky with notes of dates, figs, nuts, vanilla and a subtle, satisfying smoke.
GlenDronach 18
Once you've had a dram of GlenDronach 18, you may find yourself totally enamored with this highland whisky. Every glass evokes the warmth of a great, well-worn club chair. It's soft and rich, with notes full of wood, leather, tobacco, and a finish that keeps you cozy well into the night.
Glenfarclas 25
The Glenfarclas 25 is a Speyside single malt old enough to rent a car. Family-owned since 1865, Glenfarclas ages the whisky in Oloroso sherry casks chosen from a single Spanish bodega. It is a delicious, a classic sherried whisky, with flavors of fruit cake, spice, and a hint touch of cocoa — a perfect nightcap.
Talisker 25
The Isle of Skye is one of those places on the globe that feels not of this earth. Much like the island on which it was made, Talisker 25 has that same other-worldly quality. After 25 years in American and European oak barrels, the heavily peated whisky's smoke has been tamed by wood. The result is mature, flavorful mouthful of near perfect whisky, with smoke playing off citrus and salt while a whiff of heather magically whisks you off to Skye with every sip.
Every product on Fatherly is independently selected by our editors, writers, and experts. If you click a link on our site and buy something, we may earn an affiliate commission.
This article was originally published on