The Best STEM Toys For Kids This Holiday Season
Each of these toys is fun to play with and just so happens to teach your kids some coding and engineering basics along the way.
by Fatherly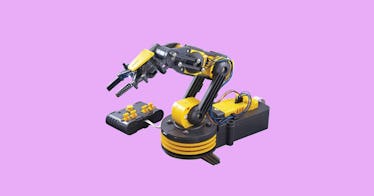 Yes, the toys and games here encourage those oh-so-important Science, Technology, Engineering, and Math skills that are critical to future success. But, more importantly, these items — from a Harry Potter Wand that lets kids program spells into it to a build your own robotic arm that looks straight out of a sci-fi lab — are genuinely fun and entertaining. So if you're looking for an educational forward holiday gift but still want your kids to, you know, have fun with said gift, give one of these a shot. Because when did a kid ever not have fun with a robot?
Sphero Bolt
Consider the Sphero Bolt a workspace on which kids can learn basic coding. Children can draw, use Scratch blocks, and even write JavaScript to program the smart-sphere to follow patterns on the floor or obstacle courses they create. Multicolored LED lights atop make it fun in both daytime and past lights out. Delicate components are shielded behind a translucent, waterproof polycarbonate shell. When your son or daughter gets together with another Bolt owner, the units recognize each other, unlocking more games and features, reinforcing STEM skills for the future.
Lego Mindstorms EV3 31313
Maybe one robot isn't enough for you. Leave it to the folks at Lego to solve that problem, with assembly required. The Lego Mindstorms EV3 31313 set has instructions for building 17 different robots. If that's not enough, it also comes with programs for each robot and software for tablets and computers for your kid to program the robots yourself.
Anki Cozmo
This tiny robot, reminiscent of Wall-E, makes good on the promise that robots with soon be imbued with genuine human emotions. Not only can it recognize you from your kid, get sassy when you're not paying attention, and be cute when you are, but it can also play games with the included Power Blocks and help beginners learn fundamental STEM skills by coding fun movements and commands.
Makedo Cardboard Construction
Whatever you give your kid, they'd rather play with the box. So after you clean up the tinsel and wrapping paper explosion and they've tired of what's inside the packages, create something truly epic with Makedo's starter STEM toy kit. The safety saw and fastener screws will ensure that all your parts are customized and securely fastened. Because a homemade Santa sleigh is great, but Scotch tape just doesn't hold at those altitudes.
Code Monkey Island
This board game cleverly uses cards to teach kids programming skills like strategic problem solving, adaptability, looping, assignment operations, and Boolean operators. The cards dictate how each player's team of monkeys moves towards their goal of reaching the banana patch, and your kids don't even realize they're learning because look at the monkeys!
Modular Robotics
These STEM toy blocks snap together using magnets and ball-bearings to form thousands of robots. With them, kids as young as four can build simple robots (and their understanding of larger systems) with Cubelets, while MOSS kits offer more complex robot builds that older kids can program to respond to light and proximity. Consider these the ghosts of LEGO future, after the robots have taken over and blocks have evolved.
Ubtech Robot Builderbots Series: Overdrive Kit
This bulldozer/dump truck/crane kit comes with an app that offers 360-degree instructions and an ability to code the models they build using a block-based interface. Start to finish, it's a great experience. Furthermore, you get to play with a very cool, working crane at the end of it.
Kano Harry Potter Coding Kit
The magic in this wand doesn't come from phoenix feather, dragon heartstring, or unicorn hair. It's Bluetooth. Once the wand is linked to Kano's software, kids can use the company's block-based language to code special movements and make objects on screen appear larger, float, or fart. Sounds strange, but it's pretty magical.
littleBits Electronic Music Inventor Kit
For kids who are ready to rock (and roll into some higher thinking), this kit enables them to piece together and program their own synth instruments. By snapping together the eight included bits (accelerometer, oscillator, etc) into the kit's cardboard frame, builders can create a keytar, a rhythm guitar, air drum, and more. Each of the instruments allows kids to play beautiful music — and learn coding techniques along the way. Beautiful step-by-step instructions help keep kids on track.
Meccano MeccaNoid
At four feet tall, with 1200+ parts and 10 motors powering articulated limbs, the only thing more fun than building this robot for kids is playing with it. It's programmable through learned intelligent motion or motion capture, has voice recognition, and comes preloaded with 1000+ phrases, facts, jokes, and dance moves. Yeah, it knows the robot.
OWI Robotic Arm Edge
Yeah, you've likely constructed forts, castles, and cars with your kids. But what about a working robotic arm? Once built, this arm's can move 120 degrees, its elbow 300, and it can grab, lift, and rotate items with its claw (and via the included remote). That means you can do a lot of fun things with it, including making it grab a plastic egg and doing your best Jurassic Park John Hammond impression. "We have a T-Rex!"
Kano Computer Kit Touch
This new kit allows kids to assemble their very own tablet from the ground up. The kit includes a 10.1-inch HD touchscreen, a detachable keyboard/touchpad combo, a USB board, a sound sensor, and various connector cables. Kids are tasked with assembling the various parts of the tablet with help from a printed "storybook," which uses narrative to engage kids in the building process. Once they're done, they'll have a Raspberry Pi-inspired, 16 GB computer that can run for three hours on a single charge.
This article was originally published on