Fatherly's Get Fit In February Sweepstakes
Check out Fatherly's Get Fit in February Sweepstakes and earn some awesome prizes and look good at doing it too.
by Fatherly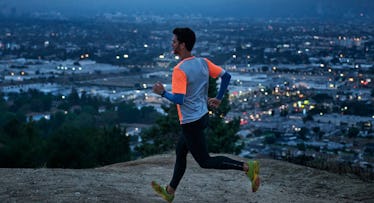 OFFICIAL RULES
These are the official rules (the "Official Rules") of Fatherly's Get Fit In February Sweepstakes (the "Sweepstakes", "Contest" or "promotion"). Please read these rules before entering the Sweepstakes.
By entering and participating in the Sweepstakes, you agree to be bound by these Official Rules and represent that you satisfy all of the eligibility requirements set forth below.
No purchase necessary. Sweepstakes closing date is 11:59 PM EDT on February 15, 2015. Only one entry is allowed per person. Open to US residents aged 21 and over. Exclusions apply. Winners will be notified via email within thirty days of close of the sweepstakes. Winning a prize is contingent upon fulfilling all requirements detailed in these terms and conditions. This promotion is void wherever prohibited by law. This promotion the Official Rules are subject to all federal, state and local laws and regulations.
Prize Overview.
One article of Lululemon clothing every month from February to December
A year's worth of KIND bars
Sponsor. Sponsor is Fatherly, located at 119 8th Street, Suite 200 Brooklyn, NY 11215.
Conditions of Entry. The promotion is open to all residents of the US who:
Are at least 21 years of age, or older if required in their state of entry for the purchase and consumption of alcohol.
Are not employees, representatives or related to employees or representatives of Fatherly, SkinnyMom, Greatist or any of their parent companies or subsidiaries.
Have a valid email address
Sponsor is not responsible for any entries that are late, undelivered, tampered with, garbled, incomplete, misdirected, lost, mutilated, delayed, illegible, corrupted, mechanically duplicated, not received by Sponsor, or otherwise not in compliance with these official rules. Such entries will be disqualified, or for problems of any kind whether mechanical, human, or electronic.
No automated entry devices and/or programs permitted.
Proof of submission will not be deemed to be proof of receipt by Sponsor.
Participation constitutes entrant's full and unconditional agreement to these Official Rules and Sponsor's decisions, which are final and binding in all matters related to the Sweepstakes.
Specific Terms and Conditions
• Except as provided herein, the prizes are not transferable or substitutable, and no cash alternatives will be provided. If in the case of unavailability of the Prize, Sponsor reserves the right to substitute with a prize of equal or greater value. All taxes and unspecified expenses are the sole responsibility of the winner.
• Only one entry per person is allowed throughout the period of the promotion. No duplicates, bulk entries or entries by agents or third parties accepted.
• Entry can be made via the promotional page on the Fatherly website at TK, which may be accessed through a link found in emails, advertisements or the social media pages of Fatherly, SkinnyMom and Greatist.
• The closing date is 11:59 PM EDT on February 15, 2015.
• Entrants must correctly state all required information (name, email, zip code).
• Entrants will be automatically opted-in to receive messages from Fatherly (the "Sponsor"), SkinnyMom and Greatist (collectively, "Partners"). Entrants may unsubscribe from any list at any time.
• All winners will be chosen via random drawing and will be notified via email within 30 days of sweepstakes closing date. In the event the claim for a prize is not received by Fatherly within 7 days of such notification, or if the selected winner fails to adhere to the Official Rules or fails to return a completed and executed Affidavit and Release for participation as required, Fatherly reserves the right to withdraw prize entitlement and award the prize to an alternate winner selected at the same time as the original.
• All prizes must be fulfilled and used by the winner by or before December 1, 2015.
• The Sponsor and its agents accept no responsibility for difficulties experienced in submitting entry to this promotion.
• All written entries submitted via this promotion become the property of the Sponsor. Entries will not be returned to any entrant.
• All taxes and fees are the sole responsibility of the winner.
• The winners will be required to submit proof of identification (passport, birth certificate or driver's license) as proof of age prior to the prize being awarded. In case of dispute as to identity of entrant, entry will be declared made by the authorized account holder of the email address submitted at time of entry. "Authorized Account Holder" is defined as the natural person who is assigned an email address by an Internet access provider, online service provider, or other organization (e.g., business, educational, institution, etc.) responsible for assigning email addresses or the domain associated with the submitted email address.
• The odds of winning depend upon the number of eligible entries received.
• All interpretations of these official rules and decisions by the Sponsor are final.
Limitation of Liability; Disclaimer of Warranties. Entrants, by participating in this sweepstakes, agree to release and hold harmless the Sponsor, the Partners and each of their affiliates and subsidiaries, suppliers, distributors, importers, retailers and associated entities (the "Release Parties") from any and all injury, losses, damages, liability, claims and actions of any kind resulting from (in whole or in part) acceptance, possession, receipt, ownership, use or misuse of a prize, participation in this Sweepstakes, technical failures of any kind, technical or human error which may occur in the administration of the Contest or the processing of entries, any travel related to this Sweepstakes, or any combination thereof including liability for personal injury. IN NO EVENT SHALL THE RELEASED PARTIES' TOTAL LIABILITY TO YOU FOR ALL DAMAGES, LOSSES, OR CAUSES OF ACTION EXCEED $100. WITHOUT LIMITING THE FOREGOING, THIS CONTEST AND ALL PRIZES ARE PROVIDED "AS IS" WITHOUT WARRANTY OF ANY KIND, EITHER EXPRESS OR IMPLIED, INCLUDING BUT NOT LIMITED TO, THE IMPLIED WARRANTIES OF MERCHANTABILITY, FITNESS FOR A PARTICULAR PURPOSE OR NON-INFRINGEMENT. SOME JURISDICTIONS MAY NOT ALLOW THE LIMITATIONS OR EXCLUSION OF LIABILITY FOR INCIDENTAL OR CONSEQUENTIAL DAMAGES OR EXCLUSION OF IMPLIED WARRANTIES SO SOME OF THE ABOVE LIMITATIONS OR EXCLUSIONS MAY NOT APPLY TO YOU. CHECK YOUR LOCAL LAWS FOR ANY RESTRICTIONS OR LIMITATIONS REGARDING THESE LIMITATIONS OR EXCLUSIONS.
Indemnification. The entrant agrees to indemnify the Sponsor, Partners (Greatist, SkinnyMom) and any of their parent, affiliate or subsidiary companies against all costs and claims relating to this promotion.
Waiver. Except where prohibited, entrants waive all rights and remedies at law or in equity for any claim they may have relating to this Sweepstakes.
Cancellation of Promotion. The Sponsor, at its sole discretion, reserves the right to cancel or suspend this Sweepstakes for any reason at any time without liability.
Personal Information. Sponsor will be collecting personal data about entrants online, in accordance with its privacy policy. Please review the Sponsor's privacy policy (the "Privacy Policy") located at . By participating in the Sweepstakes, entrants hereby agree to Sponsor's collection and usage of their personal information and acknowledge that they have read and accepted the Privacy Policy.
Disputes; Governing Law. The parties waive all rights to trial in any action or proceeding instituted in connection with these Official Rules, including, without limitation, the Contest. Any controversy or claim arising out of or relating to these Official Rules and/or the Contest shall be settled by binding arbitration in accordance with the commercial arbitration rules of the American Arbitration Association. Any such controversy or claim shall be arbitrated on an individual basis, and shall not be consolidated in any arbitration with any claim or controversy of any other party. The arbitration shall be conducted in the City of New York.
THESE OFFICIAL RULES AND THE INTERPRETATION OF ITS TERMS SHALL BE GOVERNED BY AND CONSTRUED IN ACCORDANCE WITH THE LAWS OF THE STATE OF NEW YORK WITHOUT REGARD TO ITS CONFLICTS OF LAWS RULES. For any matters which are not subject to arbitration as set forth in these Official Rules and/or in connection with the entering of any judgment on an arbitration award in connection with these Official Rules and/or the Contest, the parties irrevocably submit and consent to the exclusive jurisdiction and venue of the state and federal courts located in or closest to the City of New York. The parties agree not to raise the defense of forum non conveniens.
CAUTION: ANY ATTEMPT BY AN ENTRANT TO DELIBERATELY DAMAGE ANY WEB SITE OR UNDERMINE THE LEGITIMATE OPERATION OF THE CONTEST MAY BE A VIOLATION OF CRIMINAL AND CIVIL LAWS AND SHOULD SUCH AN ATTEMPT BE MADE, THE SPONSOR RESERVES THE RIGHT TO SEEK DAMAGES FROM ANY SUCH PERSON TO THE FULLEST EXTENT PERMITTED BY LAW.
This article was originally published on