The Best Scooters, Bikes, and Cars for Kids This Holiday
For the kid who feels the need, the need for speed.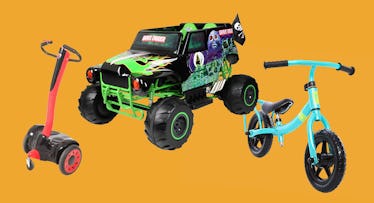 Kids learn it at a young age: Speed is fun. It's why the first thing they do once they can walk is run. And why once they can run, they always do so straight to the kids bikes, scooters, and cars for kids when they get inside the toy store. It's a natural evolution: Walk, run, ride. And since few gifts under a Christmas tree cause kids to go as batshit crazy as a sweet new ride, we put together this list of the best vehicular holiday gifts for your budding speed freak.
RELATED: Give Your Kid An Extremely Early Driving Lesson With The Coolest Cutting Edge Toy Cars
It includes some of the year's hottest two- and four-wheelers, from monster trucks and food trucks to motorcycles and bicycles. Some are battery-powered, others pedal-powered. Some budget-friendly, others splurges. All are awesome, and certain to make kids of all ages the envy of the neighborhood. Ladies and gentlemen, start your proverbial engines.
The Rollplay Grill N Go Food Truck is a hipster parent's dream, a 6-volt, ride-on for kids ages 2- to 5-years-old with a pop-up play kitchen and ordering counter. A 360-degree steering-wheel turn radius makes the car easy to navigate on even the busiest imaginary city/real neighborhood street, and, once parked, Junior can get busy grilling fake burgers and dogs using all the included cooking implements and ringing you up on the truck's cash register. Now if he could just hurry up, you've got a conference call in five minutes.
Monster Jam Truck
This spinoff of possibly the world's most notorious monster truck has seating for two, a two-speed gearbox with forward and reverse, and, of course, ginormous wheels with distinctive monster-truck tread patterns. Also, engine sounds! The 24-volt Monster Jam Truck's rechargeable battery provides up to 40 minutes of ride time, while the red-eyed zombie painted on the side should intimidate the neighbor's kids.
Power Wheels Wild Thing
The Power Wheels Wild Thing looks like it would be equally at home in a Murder Ball sequel as it would be tooling around the driveway. Its single seat fits inside an exposed metal-bar frame and is flanked by two large all-terrain wheels; dual joystick controls and a single spinning wheel in the rear allow kids to twist this thing through 360-degree turns. For safety, it's got off-road traction control and includes four parent-controlled speed settings under the seat.
If Stranger Things has you hankering for a kids' bicycle from the past, take heart: Schwinn has rolled out a limited-production (there are only 1,400 available) version of its iconic Schwinn 1971 Grey Ghost, similar to the one Mike rides in the show. Based on the original steel Sting-Ray frame, the Ghost kids bike rocks rising ape handles, a sprawling banana seat, and 20-inch rear tire, not to mention coaster brakes, and anachronistically named "sissy bar" for the passenger backrest.
The tike-sized version of Luke Skywalker's X-34 Landspeeder from Star Wars may not levitate, but it does have seats for two, an interactive dashboard with lighted buttons that command intergalactic sound effects, and a max cruising speed of 5mph ⏤ which makes it fast enough to outrun imaginary Storm Troopers and some real-life pets.
This chic, minimalist toddler toy looks like Benny the Cab's silhouette, and is designed to help kids one-and-up build motor and balance skills. The Baghera Twister's soft rubber frame and handlebars sit over two omnidirectional front wheels for easy steering, while the two back wheels move in forward and reverse for easy gliding.
Yuba Flip Flop Balance Bicycle
The ingenious Yuba Flip Flop Balance Bike solves the inevitable problem of your kid outgrowing their two-wheeler, using an adjustable frame to fit kids from 15 months to 6-years-old. For smaller kids, the frame curves down. When they get too tall, simply flip the frame over, reverse the seat, handlebars and wheels, and they're set for another couple of years. Plus, the kids bike comes with a rear cargo container so they can haul stuff down the block.
Rollplay Up-Rider
This upright, standing rider is essentially a Segway for kids 5-years-old and up. It's got a small third wheel in front that lends additional stability to the standard tilt-motion control and steering. It has a 12-volt rechargeable battery and a top speed of 5 mph, perfect for your kids to spin and tilt their way around the house, or to lead their grandparents on guided tours of the neighborhood.
If you crave the experience of putting your kid behind the wheel of a luxury car you'll never be able to afford, your/their chariot awaits. This offspring of performance-car manufacturer McLaren and toymaker Step2 is a push-powered replica of McLaren's $189,000 coupe, complete with aggressively styled front fascia, ultra-quiet so-called "whisper wheels," and dashboard buttons that mimic the real car's sounds. Even better, you get a cup holder fixed to the push handle so you can sip your latte while your kid cruises in style.
Veer Cruiser Wagon
As much for you as it is your kids, this hybrid carrier combines the utility and safety of a double stroller with the modest thrills of a wagon. Not only that, the wagon offers multiple seating arrangements: You can stash two kids up to age five (or 150 pounds) in folding seats complete with three-point harnesses. You can pull one small child and a baby in an attached infant car seat (it comes with a locking adapter). Or, you could just leave the kids inside and use it to haul firewood.
For the kid clambering to take their two-wheeler offroad, the Trail 20 has a relatively light 25-pound alloy frame, two 20-inch wheels, and six speeds. The kids bike comes in boy's and girl's specs and is designed to introduce aspiring riders to the dynamics of gear selection, whether they set their sights on the nearest mountainside or a graceful park trail.
Kid Fun BMW Ride-On Motorcycle
This rideable replica of a BMW motorcycle has a 12-volt battery, three speeds, a working headlight, and training wheels to ensure your future pro racer doesn't skid off the driveway. Fitted leather jacket sold separately.
Razor Delta Wing
This three-wheeled Razor Delta Wing takes the scooting out of scooters. Instead, kids shift their weight from side to side to generate forward momentum and build up enough speed to drift, jump, and do other rad tricks. A hand-operated front brake hopefully keeps them from terrorizing casual pedestrians.
Neon Nitro Self-Balancing Board
Perfect for the budding skater, surfer, or hipster commuter, the Neon Nitro delivers hands-free control through a foot-pressure pad and a single 8-inch wheel. Designed for kids eight-and-up, it also has a max speed of 8 mph, integrated downlighting, and skid pads to protect the board from scraping if your kid isn't a flawless shredder just yet.