8 Expert-Recommended CBD and CBD Oil Products to Know About
There are a dizzying number of CBD products available today. Interested in trying some out? Here are 8 items handpicked by CBD industry experts.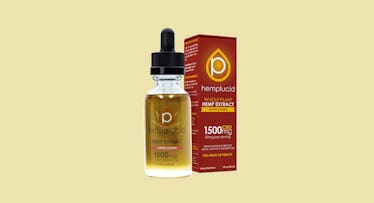 Unless you've been living under a rock, chances are you've noticed the recent explosion of cannabidiol, better known by its shortened moniker, CBD. From gummies and grooming products to oils and energy drinks, it seems no product category is off limits for the trendy, albeit polarizing, ingredient. But despite its whiplash-worthy rise to mainstream recognition, there's still a lot of confusion and skepticism surrounding CBD and its supposed wellness benefits.
So what exactly is CBD? It's a phytocannabinoid found in cannabis plants — however, unlike like its cousin tetrahydrocannabinol (or THC), it's known for its calming qualities rather than psychoactive effects. The CBD oil extract sold in the United States falls into one of two categories: pure CBD isolate (which is legal everywhere because it exclusively contains CBD without any additional cannabinoids) or full spectrum oil (which retains some other cannabinoids, such as THC, and is still classified as illegal in certain states). Laws surrounding CBD are changing regularly and vary from state to state, so it's not difficult to understand how legislation surrounding CBD often gets a bit muddled. All of these factors have only contributed to the general population's confusion surrounding the ongoing CBD conversation.
But nevertheless, there's a growing number of medical professionals and consumers alike who swear by CBD products, claiming it has been helpful in treating a slew of medical conditions, including anxiety, insomnia and migraines. However, a prescription oil called Epidiolex (used to treat two types of epilepsy) is currently the only CBD product officially approved by the Food and Drug Administration. According to the Mayo Clinic, CBD also carries some risks, with negative side effects including, "dry mouth, diarrhea, reduced appetite, drowsiness and fatigue."
Today, there are a dizzying number of CBD products available in the form of tablets, creams, sprays, beverages, soaps, chocolates, chews, and more. In many cases, these can be picked up from your friendly neighborhood vitamin store, or ordered online from retailers like Amazon. And it seems like newcomers are being unveiled every week. But a lack of regulation means that dosages can vary from product to product. Labels can be misleading, since there isn't any governmental body closely monitoring claims or enforcing accountability, so consumers need to exercise caution and common sense before introducing CBD products into their daily routines.
It's recommended that anyone considering trying CBD products should first speak with their doctor or a medical professional. But in the meantime, we tapped a handful of experts from across the country to find a few CBD brands and products they trust. Without further ado, here are some of their top suggestions.
HEMPLUCID Water Soluble Tincture
"My personal favorite is the HEMPLUCID Water Soluble Tincture," says Joseph "Jojo" Preiner, General Manager of CBD Life / Colorado's Big Discovery (which has two locations in Colorado Springs). "The most popular method of taking a CBD tincture is putting the oil directly under the tongue, but with this Water Soluble option, you can mix it into a drink or put directly under the tongue." According to the HEMPLUCID website, the tincture can also be mixed into a drink, used in cold cooking, or in a vaporizer. It's praised for its potency, versatility, and the rapid onset of its effects (thanks to the microscopic nano-CBD particles that are quickly and easily dissolved into the bloodstream). The one-fluid-ounce vial comes with a convenient dropper, and is available in four different potencies, ranging from 250mg (the most mild) to 1,500 mg (the strongest).
Life Bloom Organics Nano Hemp Sleep Spray
CBD sprays have also been gaining popularity for their fast results. "Life Bloom Organics is inexpensive and effective," says Steven Phan. Phan has worked in the cannabis industry for nearly a decade and is co-founder of Come Back Daily, a community-driven educational and experiential cannabidiol hub with locations in New York's Tribeca and East Village neighborhoods. "Their spray delivery is quick, convenient, and they have different formulas tailored to different effects." The Sleep and PMS formulas, Phan adds, are their favorites. Each 8ml travel-sized Sleep Spray bottle contains 120mg of premium nano hemp in a water-based, alcohol-free formula that's also non-psychoactive (no THC) and non-GMO. Users love its natural mint flavor as well as its two-year shelf life.
CurveCBD Revive Balm
This topical balm features a blend of full spectrum hemp, organic calendula, meadowsweet, and other herbs to provide relief for inflammation and pain. "It's my go-to for any centralized pain, from shin splints to back pain," says Shelby Isaacson, co-owner of Second and Seed in Sarasota, Florida. The popular CBD boutique works closely with the finest hemp growers in the country to guarantee their customers have access to the most impactful products. To reap the benefits of the Revive Balm, simply apply the high potency hemp seed oil supplement directly to the afflicted area. Users claim the effects kick in quickly and offer a long-lasting remedy. Each 60ml jar contains a 250mg dose of American-made CBD.
Daytrip CBD-Infused Sparkling Water
This line of canned sparkling water will help quench your thirst while providing a punch of CBD deliciousness. "Daytrip is becoming part of my daily routine," says Travis Scott, Owner and Consultant of GCC (Grow Cultivate Cure) Endeavors. "Its secret formula uses high-frequency energy to minimize the CBD particle size and then infuse it into sparkling water, creating particles that are 100 percent water-soluble and small enough for the human cell to process." Made in California, each 12-fluid-ounce can is sugar-free and contains zero artificial flavors. The current lineup includes tangerine, lemon lime, coconut pineapple, and cherry. "I've also walked through their bottling facilities, which were cleaner and more efficient than other I've seen," adds Scott. Available in 12-packs.
Lock & Key Remedies Blue Dream
Lock & Key Remedies is a Brooklyn-based health and wellness company aimed at providing affordable hemp-based formulations of phytocannabinoids and natural terpenes. The brand is another one of Phan's favorites, which he keeps stocked at Come Back Daily. "Lock & Key manufactures terpene-infused CBD vapes, which is a delivery method that many enjoy, inspired by cannabis strains," he says. "With inhalation, you can notice effects much quicker than oral or sublingual. Their Blue Dream, modeled after the famous strain, is out of this world delicious." Users say it offers fast, on-the-go relief for pain and stress. The easy-to-use 0.65ml cartridge works with any standard 510 thread battery and contains 260mg of CBD.
Lunadoil
This full spectrum hemp extract is another top pick from Isaacson of Second and Seed. "The product is boosted with CBG (cannabigerol), also known as the 'mother cannabinoid,' which helps with brain function," she says. Available in four different formula strengths, Lunadoil offers an innovative plant-based blend which contains organically ingredients grown, sourced, extracted and bottled in the United States. It was developed by a team of doctors, farmers, and hemp extract experts to create a product that people would feel confident using. The extract supports the endocannabinoid system, which is said to play a critical role in regulation our physiology, mood, and everyday experience. It's also used to ease anxiety, alleviate psoriasis and other skin conditions, treat overactive bladders, stimulate bone growth, and even slow tumor growth.
Lagom Teas
Looking to ease into the world of CBD? Lagom Teas offer a great way to break the ice, according to Phan. "We've found they can be a great way to introduce CBD to friends or family for the first time," he says. The concept behind the collection of six organic CBD teas is based on the Swedish word lagom which translates to the idea of something being just right or just enough. "Lagom Teas are not only tasty, but the CBD used within them are very high quality," adds Phan. He says Boost (a caffeinated mate chai tea) and Bedtime (an herbal chamomile tea) are two of his best-selling blends, despite each producing opposite effects.
Pure Hemp Botanicals Pet Tinctures
The benefits of CBD aren't limited to humankind. "We can't forget about man's best friend," implores Preiner of CBD Life / Colorado's Big Discovery. "Turns out animals and humans have an endocannabinoid nerve system, so CBD can benefit your fur baby too," he says. Derived from 100 percent organically grown industrial hemp, each and every batch is tested for purity, potency and safety — yielding reliable and predictable results in every bottle. "Pure Hemp Botanicals is some of the best pet tinctures out there today," says Preiner. Available in three strengths (300mg, 750mg, and 1,500mg), the formulations have even been used on farm animals and livestock, demonstrating positive results across the board.