The Best Backyard Camping Gear
First the backyard, then the backcountry. Baby steps.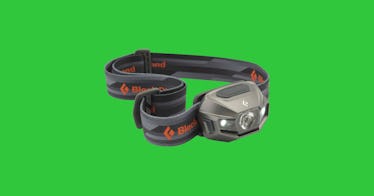 If one of your big goals in life is to turn the kid into a backcountry companion who appreciates the beauty and seclusion of the wilderness and is excited about multi-day hiking trips, you need to ease into it. After all, for a little kid, the wilderness is less beautiful and secluded and more straight up terrifying. That's why backyard camping is a genius place to start — it eases them into the sounds of silence and a blanket of stars while still letting them use a toilet or hide in bed with your wife when they get terrified by the neighborhood badger. With this gear, they'll get so comfortable sleeping on the ground, they'll be begging you for "the real deal" before they're even old enough to carry any of their own crap.
Marmot Halo 6-Person Tent
The novelty of sleeping in the backyard only stands up for as long as the tent does. The Halo is basically the tent Taj Mahal, with two doors and vestibules, room for six, and a full 81 inches of headroom at its highest. And it's 100 percent waterproof polyester, so your kids won't have to run inside if the skies let loose. They will anyway, but they won't have to.
Big Agnes Helinox Camp Chair
Whether in the living room or at the campsite, dad must have his favorite chair. The Helinox uses the same lightweight, sturdy aluminum technology as DAC trekking poles and tents, so it's as strong and comfortable a seat for you as you are for your kids. Plus, scary stories don't get much better than doing your best Large Marge from the seat of your Big Agnes.
Outland Firebowl Deluxe Portable Fire Pit
A proper campfire is all that separates your backyard camping from hobo shanty town, at least in the peering eyes of concerned neighbors. Save the sticks for marshmallow roasting and instead hook the propane up to this powder-coated steel beauty, fire up 58,000 BTUs of smokeless flame, and proclaim (for all the neighbors to hear), "I … HAVE MADE FIRE!"
Goal Zero Lighthouse Power Hub and Lantern
You could scramble for spare C batteries for your gas station flashlight, or you could charge up this lantern with solar panels, USB, or hand crank and have 360 degrees of 250-lumen light for 48 hours worth of shadow puppet velociraptors. You could also use it to charge your phone, but what the hell is that? You're supposed to be backyard camping, man. Back to the shadow puppets.
Black Diamond ReVolt Headlamp & Wiz Headlamp
No campout is complete without a game of Manhunt, which requires just two things: sight, and free hands for tackling. Black Diamond has both you and your kids equipped with super-bright LED power, strobe and dimmer capability, and IPX 4 water resistance, in case the kids are playing some newfangled version you're not aware of that includes water balloons.
Black Diamond ReVolt Headlamp
Black Diamond Wiz Headlamp
Kikkerland Birch Log Head Cushion
You're already backyard camping, so a microbead-filled spandex pillow that looks like a log is probably as close as any of you will get to actually roughing it. It's so realistic looking you might just convince yourself not to duck inside and grab your bedroom pillows. Just don't let it get tossed on the fire by mistake.
Deuter Little Star EXP Sleeping Bag & NEMO Tango Sleeping Bag
If they don't actually sleep out there, all you managed to do was keep them up past their bedtime in your backyard, where the temperature is dropping, by the way. Both of these sleeping bags are more portable bed than mummy wrap, providing 3-seasons comfort, easy-zip exit and entry, extenders for when they grow (they always grow), and multiple layers of protection from the elements.
Deuter Little Star EXP Sleeping Bag
NEMO Tango Sleeping Bag
This article was originally published on