These Big-Eyed Lemurs Are Ready to Take On Hatchimals
They're cute, interactive, and ready to dominate the holidays.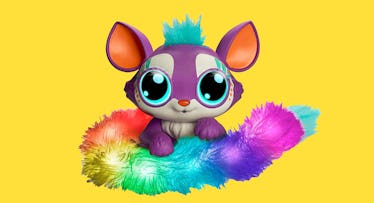 Move over Hatchimals. Step aside Fingerlings. Take a seat Pomsies. There's a new cute interactive toy pet in town. Lil' Gleemerz, big-eyed, buttoned-nose, long-tailed lemurs that purr and light-up and play with your kids, are here to vie for your child's attention.
Lil' Gleemerz is short for "little gleaming lemurs": Little because they're about six inches tall with a tail a little less than a foot long; gleaming because of the lights around their eyes and in their tail; Lemurs because they look like the bug-eyed, long tailed primates of Madagascar, some of the cutest and strangest-looking animals in the world.
Lil' Gleemerz come in three different models: Amiglow (blue), Loomur (purple) and Adorbrite (pink). The colors look like they were taken straight from the Lisa Frank merchandise of the mid-1990s, which also features lots of rainbows.
To interact with Lil' Gleemerz, you touch them in four different areas: forehead, back of head, nose and tail. They can tell the difference between a tap as well as petting back-to-front and petting front-to-back on their head. The nose and tail are simple buttons.
Pressing the nose cycles between three play modes: hangout, light party and game. Mattel says there are more than 100 different reactions your kids can discover as they play with their Lil' Gleemerz in hangout mode, including jokes and answering yes/no questions. And yes, they fart, too.
In light party mode, which may be the most compelling part, the rainbow array of lights in its tail bounces along to whatever music is playing. Game mode features three rudimentary games that require the tail to be squeezed at just the right time in response to the lights.
Lil' Gleemerz are sure bizarre, but we can see their appeal, especially in the wake of successful similar toys. Chances are, your kid will be smitten, too. They're available now, but don't be shocked if they're hard to come by during the holidays.
Every product on Fatherly is independently selected by our editors, writers, and experts. If you click a link on our site and buy something, we may earn an affiliate commission.
This article was originally published on