What You Need to Know to Take Advantage of the Toys R Us Final Sale
Prepare yourselves. The final sales are here.
by Dave Baldwin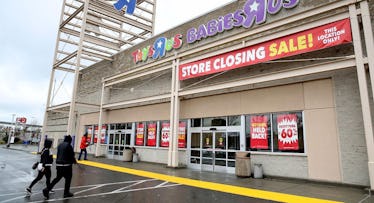 Mark your calendar, dig out the gift cards, block off lunch. Toys 'R' Us (TRU) and Babies 'R' Us (BRU) will officially begin liquidating most of its remaining stores tomorrow, March 22. And if last week's online buying spree ⏤ triggered when the company announced its closure ⏤ is any indication, goods aren't going to stay on the shelves for too long.
The sale announcement came on Tuesday after Toys 'R' Us emerged from bankruptcy court in Richmond with a clear plan for winding down business operations in the United States. The company had already kicked off going-out-of-business sales at 144 U.S. locations in February and started to liquidate its entire UK operation, but no timetable had been provided for shuttering the remaining 735 U.S. stores. Now it has.
And while it's possible the company still sells up to 200 of its more profitable locations ⏤ including many in Canada ⏤ to a buyer, the majority of TRU and BRU stores will start unloading toys, strollers, and car seats in the morning. It's unclear, however, how steep the deals will be or how quickly they'll escalate. One expert told ABC News that he "expects discounts to start on the low end, around 20 percent to 30 percent, but eventually climb to 75 percent to 80 percent off." The liquidation is expected to last 14 weeks with sales running through June, although locations may close their doors early once the bones have been picked clean.
In terms of other closing details, here are a few things customers should know:
While the company said last week that it will honor all Toys 'R' Us and Babies 'R' Us gift cards for 30 days, it came out of court Tuesday with a hard deadline. Customers have until April 19 to use them or lose them.
Today, March 21, is the last day for customers with Babies 'R' Us registries to redeem their "endless earnings" Rewards points. After today, they are gone. And because those reward points don't translate into actual gift cards until 12 weeks after the baby's due date, expecting parents are especially out of luck. A number have tried to convince the store to issue the cards early so they could beat the 4/19 deadline but were refused. Completion coupons for registries, however, are still be accepted.
As with most liquidation sales, don't plan to change your mind after you buy. All sales will be final. That said, if you bought something last week that goes on sale tomorrow, you should be able to return it for the difference.
This article was originally published on