All The Car Seats That Were Recalled in 2017
755,000 seats from six manufacturers had some type of issue.
by Dave Baldwin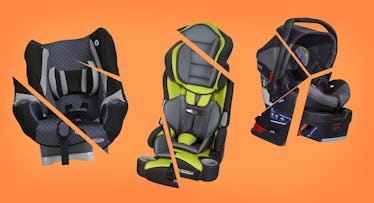 On average, more than 100 kids toys and baby products are recalled each year due to defect. And even though most recalls are voluntary, companies are rarely inclined to shout their foibles from the mountaintop. As a result, few parents ever hear about them. In fact, only 30 percent of recalled products ever make their way back to the manufacturer. Instead, they are handed down to other new parents, find their way into consignment shops, or end up on Goodwill shelves where they can potentially harm other children.
READ MORE: The Fatherly Guide to Car Seats
Car seats are a little different. Considering how many kids can be injured or killed by a defective seat, they tend to make news quickly. And while six federal agencies including the U.S. Consumer Product Safety Commission contribute to Recalls.gov, an online hub that "alerts the American people to unsafe, hazardous or defective products," the National Highway Traffic Safety Administration maintains an entirely separate database, Safecar.gov, to catalog every car and booster seat recall and safety issue.
What Type of Parent Are You? TAKE THE QUIZ!
Last year, there were six reported recalls affecting 755,000 individual car seats. Thankfully, zero children were injured. Defects ranged from chest clips that could become choking hazards to defective webbing that may not hold up in an accident. All were easily fixed with free repair kits sent by the manufacturer. However, unless you sent in your registration card when you bought the seat, the onus is on you as the parent to contact them for parts. Hence, the list below.
RELATED: The Dangerous Toy and Baby Product Recalls That Happened in August
One final note: Just because your specific car seat isn't listed doesn't mean it hasn't had a problem over the last 10 years. To be safe, search the NHTSA database by manufacturer now.
4moms Self-Installing Car Seat
Issue: Carrier Does Not Properly Attach to the Base
Number Recalled: 1,622Action to Take: Contact for Replacement CarrierContact: 4moms.com/recalls, 888-614-6667 Seats manufactured between July 1, 2016 and October 31, 2016 (model number 1032) may not securely attach to the base due to faulty coupling hooks. As a result, the carrier can detach in a crash. You can still use the seat while you wait for a free replacement carrier, but 4moms recommends manually confirming it's locked into the base by lifting up on the handle before every ride. Full Recall Details
ALSO: The Most Dangerous Toys and Baby Products Recalled in January
Baby Trend Hybrid LX 3-in-1 Centennial Booster Seat
Issue: Faulty Center Adjusters May Detach
Number Recalled: 34Action to Take: Contact for Replacement or Full RefundContact: babytrend.com/safety_notices.html, 800-328-7363 This recall of Hybrid LX 3-in-1 Centennial and Kiwi booster seats (model numbers FB48417 and FB58181) is small ⏤ it only affects 34 seats that were manufactured on two specific days (July 23, 2016 and July 14, 2016) and sold at Walmart. In short, the center adjuster may break if your child weighs more than 40 pounds. There have been zero injuries reported and Baby Trend will make sure you get a replacement if you contact customer service. Full Recall Details
Graco My Ride 65
Issue: Defective Webbing Can Break
Number Recalled: 25,494Action to Take: Contact for Repair Kit and Replacement PartsContact: gracobaby.com, 800-345-4109 According to the official National Highway Traffic Safety Administration report, Graco's MyRide 65 car seat features defective webbing that could break in the case of a collision. The current recall affects 25,494 seats produced between May 16, 2014 through August 1, 2014 with model numbers 1871689, 1908152, 1813074, 1872691, 1853478, 1877535, 1813015, and 1794334. Owners of this product are asked to contact Graco for a repair kit and replacement parts, although Graco notes that the seats are safe to use in the meantime. Full Recall Details
Combi Shuttle Travel System
Issue: Car Seats Can Disengage From Stroller Frame
Number Recalled: 1,000Action to Take: Contact for Repair KitContact: Combiusa.com/, 844-332-6730 This recall affects both the Combi Shuttle car seat and stroller, model number 6100027 or 6100100, in titanium and red chili colors. Individually, both products are safe but should not be used together, as the seat can disengage from the stroller. A repair kit consisting of straps to secure the car seat to the stroller is available free of charge. Full Recall Details
B-Safe 35 Rear-Facing Infant Car Seat
Issue: Broken Chest Clip Can Be A Choking Hazard
Number Recalled: 207,000Action to Take: Contact for Repair KitContact: bsafe35clip.com, 833-474-7016 While no choking injuries have been reported, the center tab on the chest clip of the B-Safe 35, B-Safe 35 Elite, and BOB B-Safe 35 can pose a choking hazard if broken. The recall affects too many model numbers to list ⏤ all manufactured between November 1, 2015 and May 31, 2017 ⏤ and you can check yours here. Britax says the seats are safe to use while awaiting a repair kit but parents should inspect the center clip for breakage. Full Recall Details
Diono Convertible and Booster Car Seats
Issue: When Front-Facing, May Not Provide Adequate Protection
Number Recalled: 520,000Action to Take: Contact for Repair KitContact: diono.com, 855-215-4951 When installed using just the lap belt (and no top tether), over 500,000 Diono car seats ⏤ including the Radian R100, Radian R120, Radian RXT, Olympia, Pacifica, and Rainier models ⏤ may cause chest injuries to forward-facing kids weighing over 65 pounds in the event of a crash. A lot of conditions there, for sure, but the main takeaways are the same. One, always secure the seat's top tether. Two, contact Diono for a free repair kit that includes an energy absorbing pad and new chest clip. Full Recall Details.
This article was originally published on