These Giant Bricks Let You (and Your Kids) Build Insane Forts
Even better, they're on sale right now.
by Dave Baldwin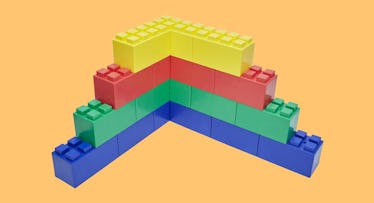 There's something to be said for Legos that won't break your feet. EverBlocks are giant plastic bricks that kids can use to build ridiculously cool forts or castles or stylish mod furniture, and that are almost impossible to step on accidentally. (Tripping over them, however, is another story.) And right now, the company's unloading a bunch of once-used sets for $30 off.
Designed as much for adults as kids, EverBlock actually rents out blocks to companies for parties and events, as well as for makeshift desks, shelves, and cubicles. It's the gently used bricks in "great condition" that they're marking down. The 8-stud interlocking blocks measure 12″ x 6″ x 6″ and come in one of four colors (yellow, orange, red, and white). And sets of 18, normally $125, are going for only $95. Still not cheap, but a pretty cool gift for under $100. You can also pick up a set of 36 four-stud half bricks for $142.
If you remain opposed to plastic bricks of any size, EverBlock also sells a more environmentally friendly cardboard version called EverBlock Jr. They're the same deal ⏤ giant Lego bricks kids will love playing with ⏤ but made of lightweight recyclable cardboard. They come packed flat and do require some assembly, but they're easier for younger children and are sold in sets of 100 bricks ⏤ so you can build a ton more stuff. They do cost more, however, and right now are on sale for $250. To see EverBlocks in action, check out this video.
This article was originally published on