The ErgoBaby Omni360 Is a Kick-Ass Baby Carrier
Comfortable, supportive, smartly designed, it's capable of carrying a child from infancy through toddlerhood.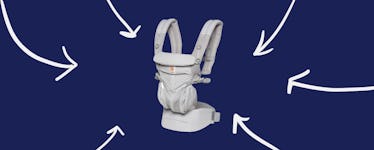 Not all baby carriers are created equal. This fact is obvious to any parent who's struggled again and again to attach ungainly clasps and belts, heard the cries of a child who managed to get tangled within the straps, felt the ache in their back from an not-as-supportive-as-you-first-thought carrier, or unclipped the harness to reveal a massive, alien-like sweat stain on their shirt. A carrier is an important piece of baby gear — it will, after all, help you transport a child for as many as three years. One of our favorite new carriers is the ErgoBaby Mesh Omni360 carrier. Comfortable, supportive, smartly designed, and capable of carrying a child from infancy through toddlerhood, it's a piece of parenting gear we fully stand behind.
The Omni360 is a soft-structured carrier capable of holding babies from 12 to 45 pounds. It has mesh architecture for breathability as well as generously padded shoulder straps for parents and padded sides for passengers. The seat width is adjustable and there are easy-to-connect clips that make the often frustrating process of securing the carrier easy. There's also additional padded lumbar support to protect parent's backs and a nice zippered waist pocket to stash stuff. If the need arises, there's a privacy canopy so mothers can breastfeed directly in the carrier. The entire carrier is machine washable and dry-able.
Acknowledged as "hip healthy" from the International Hip Dysplasia Institute, the Omni360 is meant for multiple positions and can carry babies front facing the parent, front facing out, on the hip, and, when they're ready, on the back. In any position, the carrier is engineered with ergonomics in mind. In all positions, reviewers noted that the Omni360 is simple to align and set up. Many also praised the mesh fabric, which helped keep them more comfortable when going from A-to-B. Testers also said that while they assumed the padded straps would chafe, they found them comfortable and supportive. One noted that the carrier made them feel like they could "carry their baby for days in it."
One of the most problematic features in any carriers is how awkward they can be to put on: the multiple buckles, the many readjustments. But testers praised the Omni360 in this area. Several said that, while it did take a little while to get used to the various clips, it not only becomes second-nature to slip on and off but it's one of the easier models to secure a baby into — as easy as a baby makes the process, that is. "My son is very squirmy, so it takes him a while to get into anything. But this carrier is one of the more forgiving models I've ever tried," said one tester.
Now, there are a few downsides. Some testers noted that the thick padded leg straps made their babies a bit antsy. One said that he and his wife needed to pay particular attention to their child's leg positioning as they did notice a tiny bit of chafing. "He has thick thighs though," laughed one.
All in all, the Omni360 received rave reviews from across the board. It's well designed, comfortable, ergonomic, and capable of carrying a child for the years they need to be strapped in.
This article was originally published on