From Family SUVs to Sports Cars: 10 Electric Vehicles to Get Excited About
These rides prove that the future of driving is already here.
by Michael Frank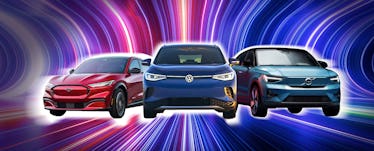 Electric vehicles are finally getting interesting. This has been a long time coming. Nearly 20 years ago GM showed an electric vehicle (EV) concept with batteries in the floor and motors at each wheel. As it turned out, Tesla, not GM, was the first company to take advantage of that basic idea and now we're seeing every manufacturer use the same principles. This has led to a slow and steady rethink of how all vehicles will be rethought. In other words? The future of the EV is essentially the future of the automobile.
That's why this year's slate of EVs is so exciting. That's also why, when coming up with this list, we included ultra-sporty options like Ford's stellar Mustang Mach-E, the way-deluxe Polestar 2, alongside huge-bang-for-the-buck vehicles like the Chevy Bolt EUV. There's a lot of variety out there in the EV world and, as showcased the list below, that's a very good thing.
Chevy Bolt EUV
Price: $33,995
Range: 247 Miles (predicted EPA)Capacity: Five passengersMax Cargo Space: 56.9 cubic feet
Consider the Chevy Bolt EUV a Tesla Model 3 but for $6,000 less. Some of GM's many EVs to come will be pricier, but the Bolt EUV is the bargain-hunter's electric. It packs nearly four more inches of rear seat legroom than you'll find on a more expensive Tesla Model 3, yet still gets you the identical range of the $39,190 Standard Range Plus Model 3.
The Bolt EUV isn't quite as quick as the Model 3 (0-60mph in 6.5 seconds), but it'll hustle just fine and the hatchback design is a lot more useful than the Model 3's trunk. We love the ultra-quiet ride, and the fact that Chevy upped its game on the interior, too, with more comfortable seats than the original Bolt. If you so desire, you can step up to the $43,495 Launch Edition with Cadillac's SuperCruise advanced, semi-autonomous driving assistance. But we think the base model is a more logical, value-for-money option, especially as a gas-shirking second family car.
There's one key factor to note for every model, and that's whether or not the car or crossover qualifies for the $7,500 federal tax credit. That's a nice chunk of change back in your wallet, and not all models make the cut thanks to a rather outmoded law we hope gets changed. For now, as you peruse this list bear that in mind, and consult the state-by-state guidelines to other incentives that Tesla has created and applies to all EVs purchased across the U.S.
Ford Mustang Mach-E
Price: $42,895
Range: 300 Miles (predicted EPA)Capacity: Five passengersMax Cargo Space: 60 cubic feet
That's right, the Mustang has gone electric. But is it really a Mustang? Well, sort of. It's sportier than we were expecting but doesn't have that raucous V-8 rumble. Still, this electric horse has some serious giddy-up to the tune of 0-60mph in six seconds. And it handles wonderfully.
Ford's also paid a lot of attention to the interior, differentiating the Mach-E from anything else the brand makes, but without turning the dial to Jetsons-level absurdity. Well, aside from a welcome app called Ford Pass, which lets you unlock the doors via your smartphone. And pre-heat/cool your Mach-E before you leave. And set charge times, and beam navigation to the next charge station to the car's 15.5-inch touchscreen that's mounted between the two front seats. You'll find something like this screen in Teslas, too, but here Ford's integration of features (dividing the screen into quadrants like A/C and entertainment) works just like hard buttons. The refreshingly simple design is brilliant for ease of use, so your eyes stay on the road, like they should.
While we haven't tested this yet, Ford's set up something called Plug & Charge at thousands of fast Electrify America stations nationwide. The goal: Plug in and walk away. No monitoring required. That said, charge from 0-80% should take no longer than about 45 minutes. So, this mustang doesn't have to sit still for too long.
Volkswagen ID.4
Price: $39,995
Range: 250 Miles (predicted EPA)Capacity: Five passengersMax Cargo Space 64.2 cubic feet
The ID.4 is a great all-around SUV with none of the carbon guilt. The key attribute of it is German-car quality. Volkswagen is clearly coming for the Tesla's Model Y here, with an interior volume roughly on par with a Honda CR-V or Toyota RAV4. It also features very rapid recharging: 0 to 80% in less than 40 minutes via DC fast charger. There's also three years of free fast charging at Electrify American locations nationwide included. Pretty sweet.
The ID.4 is also a smooth ride. It boasts a poised solidity in that German way that's a VW trademark. A pair of VW ultra supportive, drive-forever seats keeps passengers comfy. Safety-wise the ID.4 is crammed with standard features, including automatic emergency braking with pedestrian detection and a warning system for forward-collision, blind-spot monitoring, rear cross-traffic alert, adaptive cruise control, and lane-keeping assist as well as automatic on/off high beams.
All in all, it's a great electric SUV. Just be aware that when the ID.4 goes on sale later this spring it will sell only with rear-wheel drive. An AWD model debuts in late summer. A cheaper, $35,000 version is set to arrive early next year. (Note that the ID.4 qualifies for the $7,500 Federal Tax Credit.)
Hyundai Kona Electric
Price: $39,000 (est)
Range: 258 Miles (predicted EPA)Capacity: Five passengersMax Cargo Space: 45.8 cubic feet
The Hyundai Kona Electric is the smallest crossover on this list. But what it lacks in size it makes up in spunk. It's a really enjoyable drive, with a fun, somewhat sporty ride that's similar to the Chevy Bolt. Interior-wise, the cabin isn't as upscale as, say, the Volkswagen ID.4's, but it's functional and, dare we say, ideal for kids. Why? Well, the smoother surfaces of the Kona are just easier to clean and, we think, more conducive to a parent's lifestyle.
The Kona has some nice extras, too. Hyundai lets you choose from features like wireless Apple/Android app pairing and charging, and as with the Mach-E, app-based unlocking and starting as well as scheduling home charging for when electricity is cheaper. It's also an IIHS top safety pick. Range is competitive, and recharge to 80 percent from zero should take a little less than an hour at a DC fast charger.
Volvo XC40 Recharge
Price: $53,990
Range: 208 Miles (predicted EPA)Capacity: Five passengersMax Cargo Space: 64.2 cubic feet
A lot of EV's have that "look at me!" styling, all future-forward curves and sharp lines. The Recharge is subtler, more subdued. It may be the most elegant version of the Volvo XC40. But don't let that fool you. It's fearsomely fast, using its dual motors and AWD to scorch to 60mph in less than five seconds.
Yes, the XC40 is expensive for a mid-size crossover. But remember that you're buying an EV that's Volvo-upscale. The interior is straight-up beautiful, with every switch, dial, door, seating surface, and dash elegantly trimmed with chunky metal, soft suede, and stitched leather.
This is also the first-ever Volvo to get the next level of the brand's safety suite. That includes driver assistance to help avoid accidents at both low- and high speeds. There's a system called Connected Safety that bounces data from the cloud to the Recharge about an accident ahead or other hazards down the highway, so you get a warning well before you have to react. When onboard cameras detect that you're about to be rear-ended, the bolsters and seat belts tighten in nano-seconds to put your body in the right position to be as safe as possible.
And, oh yeah, the car's new Android-based infotainment system is next-level astonishing, with an ultra-clean interface and the most intuitive voice-based prompting we've ever tested.
Tesla Model Y Long Range AWD
Price: $48,990
Range: 326 milesCapacity: 5 (for $3k more, add dual, third-row seats)Max Cargo: 68 cubic feet
The Tesla Model Y is a seriously great crossover at a competitive price. It's absurdly fast, rocketing from 0-60mph in 4.4 seconds. And it features all the winning details one tends to expect from an Elon special.
The interior look is 21st-century clean (and made of vegan-friendly material), and the car's 15-inch display (and the CPU guts that run it) performs at warp speed. Frankly, the Y boasts the kind of wizardry that makes lesser vehicles' electrons seem as if they're running in the steam era. And if that wasn't enough, there's also ample rear seat leg- and cargo room, and the whole car seems lit from within by a seamless glass ceiling overhead. It's quite safe, too, earning NHTSA's top, five-star rating.
Unfortunately, Tesla doesn't offer the kind of backseat infotainment packages for rear-seaters like its competitors. So, while you can stream Netflix on that one center console screen (while you recharge), your kids have to make due with handheld devices. This, maybe, Tesla will eventually address?
Now, about that competitive price: You cannot get that $7,500 tax credit with the Y and that does make buying one a bit harder. But remember that Tesla's Supercharger network — a mere 15 minutes plugged into one adds 158 miles of range — is still the most seamless experience in re-juicing, and Tesla's ranges are still tops in the game. For the sake of that convenience and charging less frequently, lots of owners are happy to pay that premium.
Polestar 2
Price: $61,200
Range: 233 milesCapacity: 5Max Cargo: 38.7 cubic feet
Chances are, you aren't familiar with the name Polestar just yet. But, if you're looking for a luxury EV, get acquainted. Because the brand, a Swedish carmaker that began with Volvo but has since charted out on its own, is making one of the finest around.
Seriously. The interior is immensely handsome. There are woven elements stationed on the doors and dash, as well as slabs of soft-gloss wood forming a cabin-wide bridge. Polestar not only provides an entirely vegan interior, but they've also reduced the use of chemicals normally common to cars — that noxious "new car" smell — to nearly zero.
While the Polestar's price is actually closer to the Tesla Model Y because this car qualifies for the $7,500 federal tax credit, its interior space is more akin to that of a four-seat sedan — though the cargo room is quite a bit more useful than, say, that of a Tesla Model 3 or any EV with a trunk rather than this car's hatchback. The same OS that slickly runs the Volvo's Android system is present here, living and breathing in its 11.2-inch touchscreen (though, as in that car, voice control is the most seamless form of access), and unlike with the Tesla, there's also a dedicated gauge screen for the driver.
Performance wise, the Polestar 2 hits 0-60mph in 4.1 seconds. But the experience, like it's cabin, is more refined than brawny, with a granite-solid stability to a ride that's impressively insulated from the noise of the outside world.
Audi e-tron GT / Audi Q4 e-tron
Price: $107,000
Range: 238 milesCapacity: 4Max Cargo: 12.9 cubic feet
Just in case you have the desire for a Tesla Model S-rivaling four-seat sedan, coming this summer you'll be able to buy the e-tron GT, which is underpinned by the same chassis and drive system as the Porsche Taycan (Audi, Porsche, VW, and even Lamborghini and Bentley all share ownership).
The "meanest" version of the e-tron GT produces 637hp, will top 150mph, and zips to 60mph in about two seconds.
Yes, this car starts at $100,000, so you should also know that a more practical, more obtainable Audi crossover is also in the works. But until then, let's all gawk at this beast.
The Q4 e-tron will probably hit our shores in time for autumn leaves and sits on the same architecture as the VW ID.4, so this will be about the same size vehicle, and only slightly smaller than today's Audi Q5. Expect an Audi-esque interior and probably a sportier ride than the VW, and prices in the mid-to-high $40,000 range. If that's the case, with federal and state tax incentives, that's a very competitively priced Audi crossover and perhaps one to shop against the XC40 Recharge.
Ford F-150 Lightning
Price: $39,974
Range: 300 milesCapacity: 6 The F-150 Lightning is by all accounts the future of work vehicles. And it looks the part, with its smooth, seemingly straight-out-of-Tron lines and visor-like strip of headlights. Don't get us wrong: It still looks like the F-150; the truck seems to have taken a journey and come back as a more refined version of itself, one that's learned a few tricks along the way.
Some of those tricks? Well, there's an onboard scale that estimates the truck's payload. This helps drivers know what they're hauling, sure. But because payload affects range, that system communicates with the truck to provide drivers with an accurate mileage estimate. The Lightning also doubles as a generator on wheels; not only can it bring juice to worksites (delivering up to 9.6 kilowatts of power) but if there's a blackout and the truck is plugged into a home charging port, Ford claims a fully-charged vehicle can power a house for up to three days. Oh, and let's not forget about the "Mega Power Frunk." Lift up the hood and you'll find 14-cubic feet of space that can fit a family's worth of luggage.
F-150s need oomph and the Lightning has it, with its two motors pushing out 563 horsepower. It will be available with two battery options — one with a range of 230 miles and one with a range of 300. Perhaps most surprising is its price. The Lightning starts at $39,974 before federal, $7,500 rebates. That means a base F-150 will cost way below Tesla's smallest Model 3. Sure, actual average prices will be more like $50,000, but with crew-cab seating for six, that's not an extreme cost for a family vehicle; Ford sells a lot of gas-powered F-150s for exactly that purpose. That's one of many reasons the 2022 F-150 will likely become the fastest-selling EV in history.
Nissan Ariya
We won't see the Ariya until the end of the year, but know that Nissan is targeting 300-mile range, and an interior that's close to as roomy as the Tesla Model Y. All this for a lower sticker price, and with features like ProPilot Assist 2.0, which offers semi-autonomous driving.
What we've seen so far of the interior is exceptional, with haptic "buttons" for climate controls, a distinct volume knob for audio, and other functions in a touchscreen. This is somewhat of a hybrid between, say, Tesla and Ford's Mach-E and conventional controls.
Nissan's already said that the two-or AWD model will be available on standard and longer-range battery configurations, and safety tech will be extensive, including rear automatic braking, lane departure warning forward collision warning, automatic emergency braking with pedestrian detection, blind spot warning, rear cross traffic warning, and automatic high beams. They're also offering very fast recharge times, so expect something on the order of 0-80% recharge in as little as a half hour.
A kicker: Nissan's Leaf hasn't consumed all the $7,500 tax credits available to Nissan buyers, so it's possible at least early Ariya takers will reap significant savings on this long-awaited, seemingly ultimate Tesla-fighting hatchback.
This article was originally published on