The World's Best Workout Shoe is Getting an Upgrade
Reebok's new Nano X2 doubles down on the previous entries' versatility.
by Sam Anderson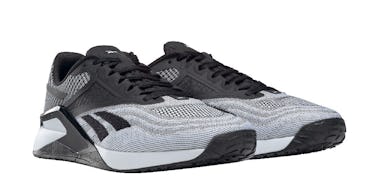 Athletes, get your wallets ready: Reebok just announced the latest iteration of its highly popular Nano shoe series, the X2. Hugely popular among CrossFitters, Nanos are built for the athlete who does a little bit of everything, the X2 is made to excel in everything from Olympic lifting to getting in a few miles on your lunch break.
Already the most versatile workout shoe on the market, the series offers an upgraded outer heel that adds stability and slims down the profile. The re-engineered FlexWeave knit upper provides better protection from rope climbs and blowouts. Plus, it offers better breathability than previous entries. Reebok's Floatride Energy foam provides cushioning during runs and box jumps without sacrificing response during explosive lifts.
This isn't just great news for devout members of the CrossFit cult. This shoe is for anyone who wants a do-it-all workout shoe. Stable, responsive, and built to last whether you're working out in a gym, your garage, or banging out lunges in your living room. We'll be testing the shoe over the next few weeks; keep an eye out for an in-depth review.
The X2 will be released through an ongoing series of sneaker drops. On Friday, April 8, Reebok will launch the first series of men's and women's Nano X2s worldwide. After that, the Reebok will continue to drop a range of colors and sizes throughout the season.
The Nano X2 starts at MSRP $135. If you want to skip the line, you can become a Reebok UNLOCKED member. If you're signed up, you can buy the Nano X2 on Friday, April 1 You also get access to the vivid Orange Heat color scheme, which pays homage to the Nano's roots.
This article was originally published on