Edo Bricks Are Cardboard Boxes That Work Like Giant, Stackable Legos
Other suggestions: Recreate Roger Water's "The Wall" live show.
by Dave Baldwin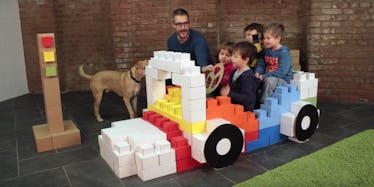 If there are two things you know kids love to play with, it's Legos and cardboard boxes. Combine those — boom, the perfect kids toy. But, because you were too lazy to capitalize on this thought, some other dad took this million dollar idea and ran with it. Essentially, Edo Blocks are giant cardboard Legos that kids can use to build everything from castles to cars.
Edo Blocks are sold in eco-friendly recycled pieces that look like regular boxes, but are easy enough for your 10-year-old to figure out how to assemble and interlock. They come in three sizes (single, double, and connector) and a host of colors. Does your kid like to draw on everything but construction paper? Point their crayons towards the rewritable surface and let them decorate life-size creations with add-on features like animal eyes, ears, or glasses. The only downside seems to be that your living room will probably look like an Amazon fulfillment center.
If you're looking for more adult functionality from cardboard toys, you're also in luck: Edo Blocks are reportedly sturdy enough to be used as a nightstand, bookshelf (for your collection of board books), or as the legs of a coffee table (surface sold separately). The Kickstarter debuts this week and you can pre-order Edo Bricks in packs of 25, 100, 500 blocks, or by theme like animals, snowy castle, or college move-in day.
This article was originally published on